Pumpkin Cream Cheese Pie
On this page, we learn the second part of how to make an easy pumpkin cream cheese pie. This crustless pumpkin pie is one of our delicious and easy pumpkin pie recipes. It's a lovely simple variation on a baked cheesecake.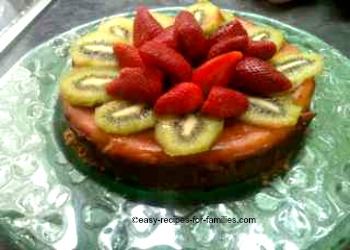 For the start of the tutorial and the full pie recipe, click here.
For the first part of this pie tutorial where you made the super easy crumb base, click here.
Now, here's how to make the cream cheese batter
For this part of the pie recipe, you'll require:
1 pound/500gm cream cheese
1 1/3 cup mashed pumpkin
zest from one orange
1 1/2 cups sugar
2 heaped tablespoons of plain flour
3 eggs, beaten
1/4 teaspoon nutmeg
1/4 teaspoon cinnamon
Step 1:
Decant all the cream cheese into a roomy saucepan.
Turn the heat on the stove to medium high. The objective is not to cook the cream cheese, but to heat it lightly so that it mixes easily and smoothly.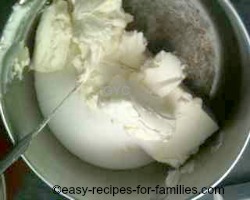 Scrape over the cream cheese the orange zest.
To do this just scrape the orange skin of a whole orange over the zester. Only scrape the orange skin as the frangrant oils are in this part of the orange. Take care not to scrape the white pith - that's quite bitter.
If you're taking a bit of time to do the zesting, turn the heat off or down to very low. With experience, the zesting will take less than a minute.
Continue to stir while heating to soften thec cream cheese.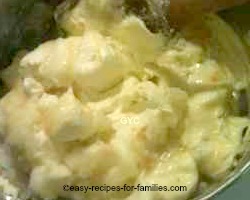 Add all the sugar and pumpkin and combine well with all the other ingredients till smooth.
As soon as the cream cheese starts to soften and the mixture moves smoothly, take it off the heat, but keep on stirring. Remember the heat is to help it soften, not to cook.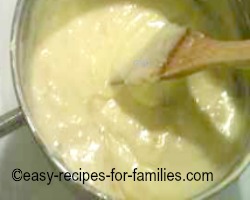 Step 2:
Toss into the pan all the dry ingredients.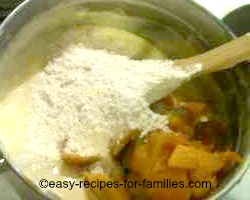 Add the beaten eggs and combine well.
Keep stirring till the mixture is a smooth soft batter.
Here, the batter looks smooth and ready for pouring into the baking tin.
That's it!
This simple process which is a toss all the ingredients into a pot and mix makes a delicious pumpkin cake batter rich in cream cheese.
In the next step, this pumpkin batter is poured over the crumbs and the baked result is a luscious pumpkin cream cheese pie.
Talk about easy recipes - well this one definitely qualifies!
---
Leave Pumpkin Cream Cheese Pie to explore heaps of easy recipes for delicious baked yummies.