My easy low fat recipes includes this bake, which is so incredibly easy to make.
Easy Rice Bacon n Veg Bake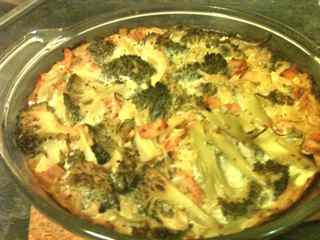 All you do is combine together in a deep casserole dish, uncooked rice, some ham or bacon pieces (naturally with all the fat trimmed off), half an onion, a head of broccoli with chicken stock and it's baked in a low oven for 1 1/2 hours.
You cut it like a pie and serve it as sides with your hero dish.
Easy Low Fat Recipes
Rice Ham n Veg Bake

This recipe makes 6 - 8 servings of rice.
This is an accompaniment to a main meal. The flavor while tasty is not overly so, so as not to overshadow the taste and flavor of the main dish.
Just Add
Prepare
• 1 cup uncooked rice

• 3 tsp vegetable or chicken stock powder

• 3 cups water

• 1/2 onion, diced finely

• 1 head of broccoli, cut chunkily, including the stem

• 3 large middle rasher bacon slices (with little or no fat) or 8 slices of ham




• Preheat the oven to 320F/160C

• Combine all the ingredients into a deep casserole dish

• Cover with a well fitting lid

• Cook in a moderately low oven for 1 1/2 hours


Easy low fat recipes like this one are just so very good for the family.
This meal has fiber and no fat at all. It's combined together in minutes and what I love about oven cooking is you just leave it alone for the duration without wasting time and energy watching for spills or over cooking.
What I like about this meal is it is time efficient and produces a healthy, tasty meal.
Now, how easy was that!
Tip

As with all oven baked risottos, resist the temptation to stir it. DON'T.
This comes out like a firm bake rather than a creamy risotto. Cut it up like a pie to serve.
Substitute with any vegetable that will withstand the long bake in the oven such as carrots.
~~~~~~~~
Wishing you happy cooking!

Meals In A Flash!
www.20minutecook.com

---
Top of Page Easy Low Fat Recipes
Rice Ham n Veg Bake


Return to: [Home][Easy Salads][Easy Veg]

Also Recommended: [Site Map][Easy Dessert Recipes][Easy Recipes For Kids]