This easy fried rice recipe makes a special fried rice with all the yummy goodies but without the addition of fat. It is delicious and healthy.
This meal is absolutely yummy, and I'll share with you the two secret ingredients.
Special Easy Fried Rice Recipe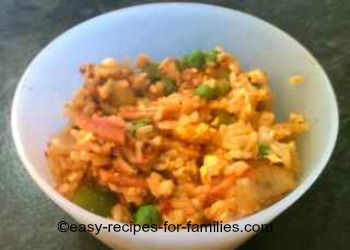 This really is a one-pot meal as this easy dish has carbohydrates, meat for protein and lots of vegetables.
This recipe serves 6 persons.
Have this meal on its own or serve with a sides of just sauteed greens.
Ingredients
For Our Special Fried Rice Recipe

I make this meal only when there is left over cooked rice, and all the other ingredients are likely to be available in my pantry. There should be enough rice for 4 persons so, that'd be 2 cups of rice grains cooked in 4 cups of water.
But, be sure to leave the cooked rice at least over night. Never use freshly cooked rice, as then your meal will be soggy.
The Secret Seasonings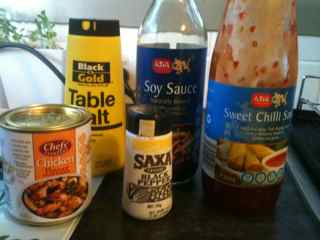 Combine all the ingredients in a roomy fry pan
Break up the clumps of rice
Add all the seasonings. The liquid from the seasoning will help moisten the rice and help to soften it, making it easier to break up the clumps

Move the rice mixture to the sides of the pan.
Either break the eggs into the center OR pour in beaten eggs. Add salt and pepper to the eggs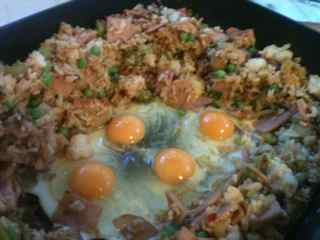 Break up the yolk but leave the eggs to set
When the eggs have set and are firm, then scramble
the eggs into large pieces
Lastly, stir in the peas

Just Add
Prepare
• 4 cups of DAY OLD cooked rice

• 1 onion, diced finely

• (Optional) 1 clove garlic, diced very finely

• 6 bacon rashers, rind and fat removed, diced small

• 1 cup shredded cooked chicken

• 1 cup cooked shrimp or scampi (or Asian dried prawns, washed and soaked)

• 2 Chinese sausages - Lup Cheong, diced small

• 2 celery sticks, diced finely

• 4 eggs

• 2 ts chicken stock powder

• salt and pepper to taste, 2 ts sugar

• 2 tbs light soy sauce

• 1/2 cup Sweet Chilli Sauce

• 2 cups of frozen peas




• Dice all the ingredients so they are all about the same small size

• Use a large non stick fry pan that is sufficiently roomy so that the ingredients can be mixed together well. I use a non stick electric fry pan.

• There is no need to use oil if cooking in a non-stick fry pan

• Fry onions and garlic till softened

• Add all the meats and celery, and fry for a few minutes

• Add the day old cooked rice. Break up the lumps of rice and combine with all the ingredients and seasonings. Cook till well combined

• Move the rice mixture to the side of the fry pan

• Break the eggs into the center of the pan. Leave it to set. Don't disturb it as you want the firm pieces of egg mixed through your fried rice. Break the yolks so that the yellow sets. When the eggs have set, then, scramble eggs so that there are large pieces of egg through the rice

• Add the frozen peas, stir to warm them through

• Add more soy sauce and seasoning if necessary


There you have it! A tasty, healthy, easy fried rice recipe.
The secret ingredients for a successful special fried rice are:
day old cooked rice
chinese preserved sausage/lup cheong
firm chunks of scrambled eggs
As explained earlier, only ever make fried rice with cooked rice that is at least a day old, so that it has already dried out in the fridge. Freshly cooked rice makes a soggy fried rice dish, and it looks unappetizing.
The special flavor in this special easy fried rice recipe comes from the preserved sausages. Dice it into little pieces as you just want only small tiny pieces through the rice. Now, these sausages have a fair bit of fat in them, so there is no need to add extra cooking oil to your cooking - the sausage fat is sufficient.
If using Asian dried shrimp, firstly rinse them under running water, then soak for half an hour in boiling water to soften.
I've described above the method of scrambling eggs for fried rice. Don't scramble them too early while the eggs are still too liquid. What you want are large pieces of scrambled eggs.
This recipe is so easy, when I cook this meal, it is on the table within 20 to 30 minutes. It's filling, hearty and tasty and the children always ask to have seconds.
Tip

Use a non-stick fry pan so as to avoid using oil in your cooking.
An alternative treatment with the eggs is to beat them firstly then pour it into the center of the pan. Again, leave it to set. The advantage is the cooked eggs will be more yellow.
~~~~~~~~



Wishing you happy cooking!
---
Top of Page Special Easy Fried Rice Recipe



Return to: [Home][Easy Chinese Food Recipes][Dinner Ideas]

Also Recommended: [Site Map][Easy Dessert Recipes][Easy Chicken Recipes]