This has to be the quickest and simplest of easy Chinese food recipes. This is food that's simple and healthy.
Cooking food in a non-stick electric fry pan is much healthier as you needn't use oil to grease the pan and it'll be large enough for 6 - 8 food servings.
Easy Fried Rice With Chunky Chicken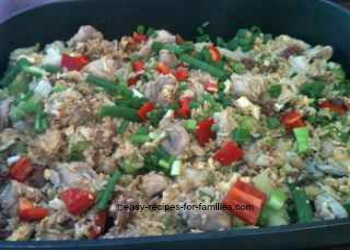 These are the specialty food ingredients you'll require. These can be sourced from a Chinese Food or Asian Food supermarket:
Chinese sausage - These are preserved so, you'll find them in dried food section
Chinese light soy sauce - your local supermarket will stock this item
Easy Fried Rice With Chunky Chicken
This recipe is designed to be a meal in itself and not just a side dish. There's sufficient protein, carbohydrate and vegetables for a main.
This recipe makes 8 - 10 servings.
This is food that's suitable to be frozen.
Just Add
Prepare
• 1 large onion, diced

• 6 Chinese sausages, sliced into 1/2 inch/1 cm rounds.

• 2 lbs/1kg Chicken thigh or breast meat, cut into chunks.

• 2 celery sticks, sliced 1/2 inch/ 1 cm

• 4 cups of cooked rice, at least a day old

• 4 eggs, beaten

• 2 cups frozen peas

• 2 chicken stock cubes

• Soy sauce

• 1 red capsicum, diced

• 4 shallots, cut finely



• In a medium hot electric fry pan, fry onions till soft

• Add Chinese sausages, fry for a couple of minutes

• Add the chunks of chicken meat, fry till browned. Add celery

• Add rice and stir well to combine ingredients. Fry for for 5 minutes

• Make a well in the center by moving the rice and meat mixture to the sides of the fry pan

• Pour in beaten egg into the center of the well. Leave to firm up (about 5 minutes) before stirring it up as you would with scrambled eggs

• Add frozen peas

• Sprinkle broken up stock cubes over rice. Add soy sauce, salt and pepper to taste.

• Combine it all well. Fry for another 5 minutes

• Lastly add capsicum and spring onions. Turn the heat off so that the capsicum and spring onions are warmed through but not cooked.


Serve this Chinese food hot.
A salad on the side will freshen the palate.
This Chinese Food of Fried Rice with lots of meat and vegetables is a meal in itself.
Now, how easy was that!
Tips
Always use cooked rice that is at least a day old. Leaving it a day dries out the rice and it fries much better.
For more vegetables, add diced carrot when frying Chinese sausages.
There is no need to add oil to grease the pan, if you're using a non-stick pan.