These are healthy easy Asian recipes adjusted to suit our family's western taste.
This dish is a one pot dish of fried flat chinese noodles. It's a favorite dish in our family as it is full of yummy goodies.
It's Cantonese name is "Chow Kway Teow", translated means Fried Flat Noodles!
This recipe requires special ingredients from the Asian Supermarket. I've included a picture at the bottom of this site so you know what you're looking for.
As with most asian cooking, the preparation takes time, but the cooking itself is quick. Nonetheless, this is a simple, one-pot meal... and very tasty and healthy.
As this is a large volume, I cook this in a large electric fry pan.
Easy Asian Recipes - Chow Kway Teow or Fried Flat Noodles

Absolutely yummy!
Easy Asian Recipes - Easy Fried Flat Noodles

This recipe makes 8 servings.
It's best NOT to freeze this surplus but is fine to be reheated for the next day's meal.
Just Add
Prepare
• 2 lb/1kg chicken meat

• 1lb/450gm chinese meat balls

• 6 chinese sausages, Lup Chong

• 1 cup chinese dried shrimp, soaked in boiling water for 1/2 hour

• 1lb/450gm chinese meat balls

• 1 large onion, diced finely

• 2 packets of 1/2 lb/1 kg ea fresh Chinese flat noodles

• 1/4 cup light soy sauce

• 1/4 cup chinese thick caramel sauce

• 1/3 cup Thai Chilli Sauce

• 3 cups frozen peas

• 1 packet chinese bean sprouts or nga choy




• Prepare the meat:

1. cut up the chicken into large chunks, about 1" pieces and put it straight into a moderately hot fry pan


2. cut up the Chinese sausages into 1/2" pieces. Pop them into the fry pan

3. cut the Chinese meat balls into thirds. Pop them into the fry pan
• Add the onion and drained Chinese dried shrimp to the meat. Cook till the chicken is browned and cooked

• Move the meat to the sides of the fry pan

• Toss in both packets of flat noodles. Loosen the noodles and leave for 3 minutes

• Add in sauces

• Combine well and cook for a further 5 minutes

• Lastly toss in peas and bean sprouts

• Taste test and add salt, pepper, soy to suit your liking

• Garnish with a sprinkling of chives


Ingredients Clockwise from bottom left
dried shrimp, fresh flat noodles, meat balls, chinese sausages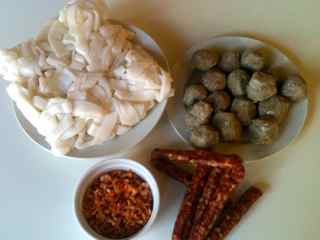 Now, how easy was that!
This dish is full of chunky meat that the family will love.
~~~~~~~~
Tip
Healthy easy Asian recipes are cooked without oil.
Use a non-stick large electric fry pan.
The surplus makes a tasty packed lunch for school or the office the next day.
Be sure to soak the dried shrimp in boiling water for a minimum of half an hour.
The fresh noodles are ready made to pop in the pan immediately. There's no need to cook them firstly.
~~~~~~~~
Our family enjoys healthy easy Asian recipes and I enjoy cooking fast, simple one-pot meals. This recipe suits me and the family!
There are more easy chinese food recipes to try. I've modified these to suit our family's Western tastes.
Easy Fried Rice with Chunky Chicken



Wishing you happy cooking!
For more Quick Easy Recipes:
---
Top of Page Easy Asian Recipes - Easy Fried Flat Noodles