Fried Rice Recipe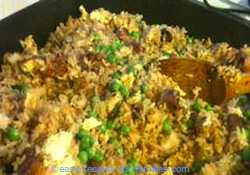 Rating:
Easy
Hands-On Time:
20 minutes
Ingredients:
11
Steps:
2
This recipe for fried rice is packed full of chunky chicken pieces, generous amounts of Lup Cheong, the Chinese Sausage and 6 eggs.
It's a one pot meal that's ready in 20 minutes.
Ingredients For This Special Recipe For Fried Rice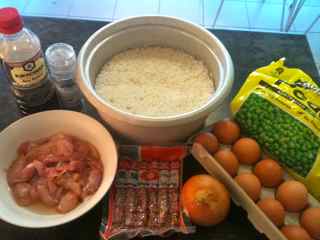 The secret for the best fried rice is to use cooked rice that is at least a day old. Make sure it's been stored in the refrigerator.

We recommend this tasty Lup Cheong or Chinese Sausage in this special recipe.
Here it is, sliced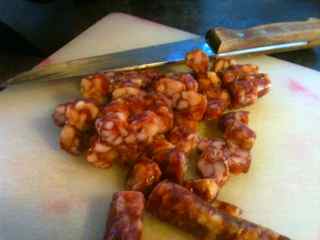 Move the cooked rice and meat to the sides of the fry pan, creating a well in the center.
Pour the beaten eggs into the well and cover to let it set till cooked.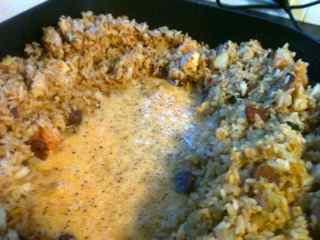 Fried rice cooked to perfection
All chunky pieces of meat - truly, a one pot meal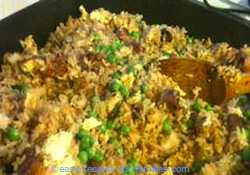 Special Chunky Fried Rice
Makes 6 - 8 servings
Just Add
Prepare
• 1 pound/500 gm chicken fillets, diced chunkily

• 6 Lup Cheong/ Chinese Sausage, diced large

• 1 onion, diced

• 8 cups of refrigerated cooked rice, cooked from 2 cups of long grain rice grains

• 4 tbs soy sauce

• 1 ts sugar

• 2 ts stock powder

• 1/3 cup sweet chilli sauce

• 6 eggs, beaten

• 1 1/2 cups frozen peas



• In a hot electric frypan, brown onions, chicken pieces and Lup Cheong pieces

• This takes about 5 minutes, not long at all. Add in the cooked rice all at once. It will be lumpy having dried out in the fridge, so break up the lumps with a wooden spatula

• Add all the seasoning and combine well. Turn down the heat to medium The sauces will moisten the rice and it will become smoother as you stir it up

• Move the well mixed rice to the edges of the electric fry pan leaving a well in the center

• Pour the beaten eggs into the center and leave it to set. Put the lid on to help the eggs firm up

• It takes about 8 minutes for the eggs to cook. When the eggs are firm, like an omelet, break it up with the spatula and mix through the rice. Combine it all

• Lastly, stir through the frozen peas


Serve immediately. The whole process for this delicious fried rice recipe takes just 20 minutes and you have a wonderful, nutritious, filling meal.
Tips
Use a large non-stick electric fry pan so that there is sufficient room to mix this large quantity of fried rice.
This fried rice recipe is ideal for freezing. It keeps well and is delicious when re-heated.
The secret for an excellent result is to use left over cooked rice. Rice that has been in the fridge overnight or a couple of days is perfect for this meal. It will have dried out and the cooked grains are firm.
~~~~~~~~~~~
---