Easy Roast Chicken
Tutorial For a Moist
Golden Roast Chicken
On this page you'll find the photo tutorial for this easy roast chicken - a beautiful, moist, succulent, golden brown roast chicken. Just superb!
This is an incredibly easy recipe but for those who wish to see each step, they're shown here so that you know what each stage should look like. To go to the full recipe click on the button.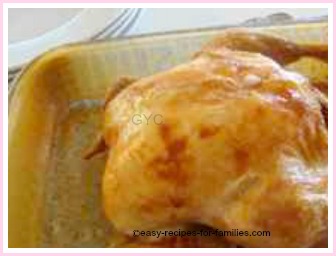 This is it!
These are the ingredients for a most succulent, moist golden roast chicken.
A fresh medium sized chicken
4 - 5 bacon rashers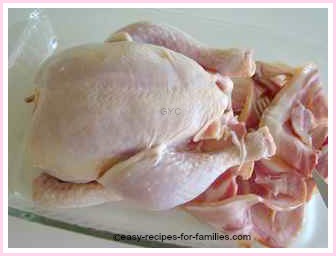 This is how you lay the bacon rashers.
Firstly, lay the chicken so that it is lying on its back, breast upwards.
Lay the bacon rashers across the breast covering the entire exposed area of the chicken. The objective is to protect the skin so that it does not burn while in the roast process.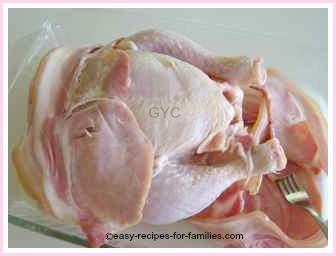 See how the rashers overlap slightly so that that there is no area that is exposed to the long roast process. Roasting dries out meat and the bacon is to add a protective layer to keep it moist.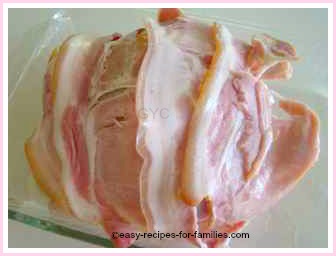 Take the roast out after 1 hour and 15 minutes ( for a 3 1/2 pound/ 1.6kg chicken). See how the bacon has become quite burnt and crisp.
Remove all them and discard.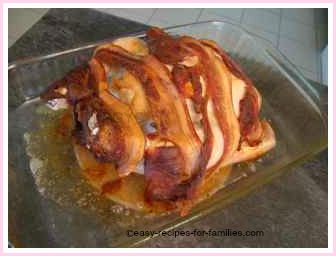 Here's the chicken with the strips removed. It  looks awful, doesn't it - all pale and palid.

Now put it back in the oven.
Dial up the temperature to increase it to 430F/ 220C for 15 to 20 minutes till it becomes a lovely golden brown.

...and here is the result - fresh out of the oven - your roast chicken is just perfectly succulent and the skin a perfect crispness.

---
Leave Easy Roast Chicken to explore this site for hundreds of delicious yet so easy recipes, many with photo tutorials.