Healthy Appetizer Recipe

Photo Tutorial for
Elegant Roasted Pears with Brie and Proscuitto

See each step on how to make this elegant healthy appetizer recipe. It is easy but takes a little effort to present it beautifully.
To go to the full recipe with the proportions and instructions, click on the photo.

Step One: Roast the Pears

See how the halved pears have their seed centers cut out? Use a small sharp knife to carefully trim away the seed core.
Toss the halves into a large bowl and coat throughly with sugar and oil.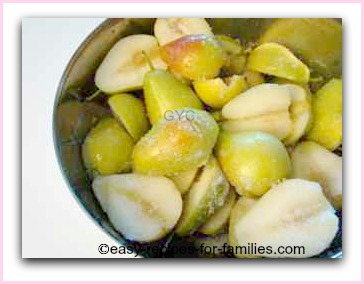 Place them, insides facing up on a lined roasting pan, just like in this photo.
Bake for 20 minutes at 400F/ 200C till beautifully golden brown.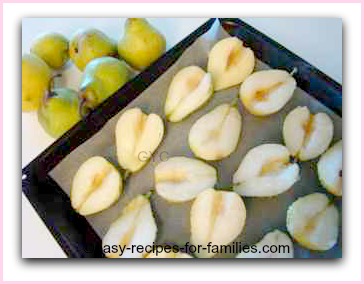 Place the caramelized fruit onto a serving platter.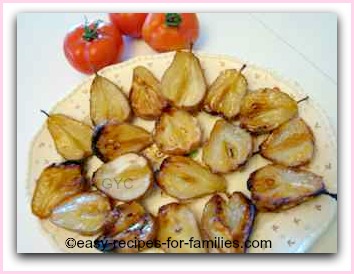 To arrange the topping:
1. place on each roasted pear, a sprig of parsley leaves
2. cut a small piece, about half a teaspoon of soft cheese, on the leaf. I alternated with brie and blue vein cheeses
3. In the meantime, you will have used a pair of kitchen scissors to cut each proscuitto or pancetta into 4 ribbons and if long, cut to size again.  Wrap the ribbon of proscuitto over the pear tucking in the ends under the fruit.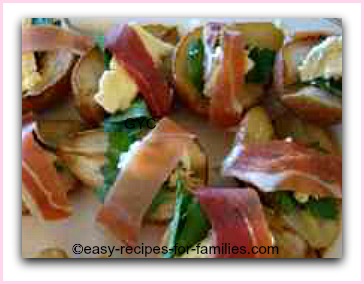 Just look at the contrast of colors!
This recipe is beautiful!
And the juxtaposition of flavors is perfect...The sweetness of the pear contrasted with the sharpness of the cheese, with the added depth of the subtle flavor of parsley.
Truly...A perfect healthy appetizer!

---
Leave Healthy Appetizer Recipe to browse through loads of incredibly delicious and sensationally easy recipes!