My homemade spaghetti sauce recipe is not just a quick one pot meal, but I make it extended with lots of vegetables so that just 1 1/2 pounds/ 750 gm of good quality ground beef will extend to 2 meals for 4 people.
Quick and Easy
Homemade Spaghetti Sauce

This homemade sauce looks divine served with long pasta and a crunchy salad.
For long pasta, the family just love the usual spaghetti, spaghettini which is finer and fettuccini a wide flat long pasta.
You'll love this absolutely yummy homemade meal!
This recipe makes 8 serves of spaghetti sauce.
Ingredients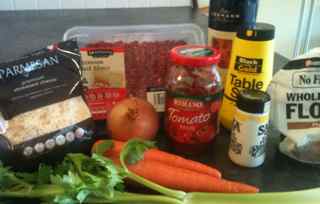 Brown Onions and Meat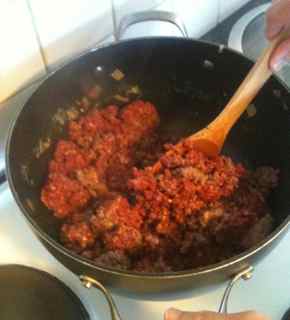 Add flour, stock powder, seasoning and tomato puree. Combine well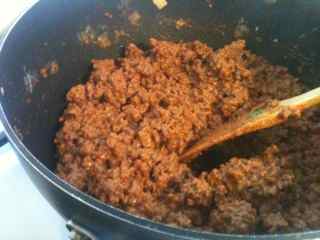 Add all the vegetables and cook for a few minutes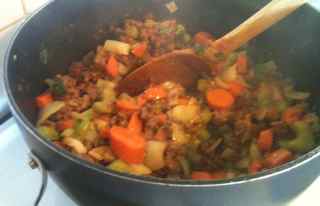 Add herbs from kitchen herb garden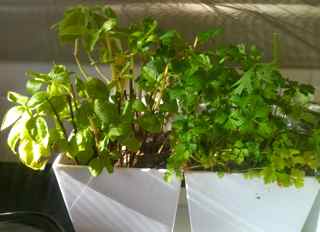 In the meantime, cook the spaghetti in lots of continually boiling salted water. Keep the water at boiling temperature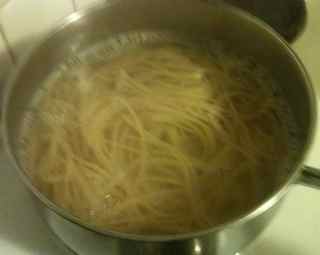 When al dente', drain the pasta and stir through some herbs for extra flavor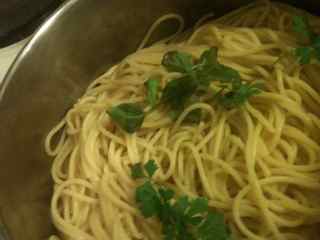 Homemade Spaghetti Sauce Recipe

Just Add
Prepare
• 1 1/2 lb/ 750gm premium grade ground beef

• 1 onion, diced

• 1 heaped tbs plain flour

• 2 heaped ts chicken stock powder

• salt and pepper to taste

• 1 heaped tbs sugar

• 2 heaped tbs tomato puree

• 1 can diced tomatoes

• 3 carrots, diced small

• 2 sticks of celery, diced small

• 1 1/2 cups white wine or water




• Into a large non-stick pot on high heat, brown onions and ground beef. The process of browning is to caramelize the meat which brings out the flavor. If you are not using non-stick cookware, add some little oil to the pan firstly.

• Add in flour, seasonings, tomato puree and stock powder and fry for a few minutes so that all the ingredients are combined

• Add in all the diced veg. Cook for a couple of minutes to soften

• Add in the tin of tomatoes, water and/or wine. Combine well. Bring to the boil for a couple of minutes then turn the heat down to a gentle simmer

• Leave it to simmer for 10 minutes until the meat is cooked and the flavors thoroughly combined


This homemade spaghetti sauce recipe is so good for the family with all the fresh vegetables and good quality low fat meat.
Serve immediately with freshly cooked pasta.
This recipe is ideal as a meal to be cooked ahead of time, frozen and reheated when required.
Now, how easy was that!
Tip

Use non-stick cook ware so as to avoid using oil in your cooking.
Only ever cook with the very best grade ground beef, as otherwise the meat will be full of fat which must be discarded. It is poor economy to purchase cheap fatty meat as most will need to be disposed.
If you have a herb garden, throw in some basil and parsley into the sauce.
If you are a fan of garlic, chop it up finely and brown it together with the onions.
Most spaghetti sauce recipes have red wine in the ingredients, but children find this taste too strong, so my recipe uses only white wine or just water.
~~~~~~~~



Wishing you happy cooking!
---
Top of Page Quick and Easy
Homemade Spaghetti Sauce Recipe



Go to: Easy Pasta Recipes