Pumpkin Pie Recipe From Scratch
On this page, we learn how to make a no bake pumpkin pie recipe from scratch.
This pie is really not difficult and once you've made the crumb crust, the rest of the recipe, including cooking pumpkin from scratch, is totally, easy
Here's how to make the crumb crust from scratch
For this part of the recipe, you'll require:
Equipment:

a removable non stick flan pan
a clean unused plastic bag like a medium sized freezer bag
a heavy based saucepan

Graham or Shredded Wheat Crackers - these are loosely textured and plain
6 oz/ 180 gm unsalted butter
Step 1:
To make the crumbs, place the crackers in the unused plastic freezer bag.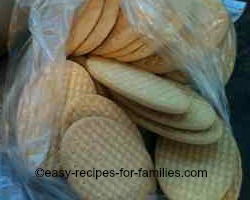 Knot it loosely after expelling as much air as you can. The bag should be secure but with ample room for the crumbs to move around.
Crush them using the base of a heavy saucepan. It won't take long for these loosely textured crackers.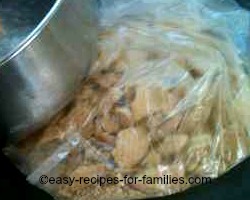 Keep crushing till the crumbs look very fine and evenly crushed.
Step 2:
Combine with butter
Melt butter in a roomy saucepan.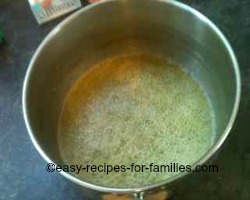 Add the crumbs all at once to the melted butter.
Combine well so that all the fine crumbs are all coated.
Step 3:
To make the pie crumb crust, spoon the crumb mixture into the removable flan pan.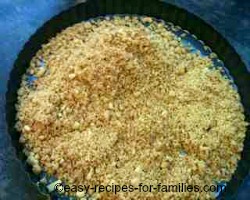 Step 4:
Use clean fingers to press the mixture firmly into the base and sides of the pie pan to make a firm condensed base of crumb crust.
Chill the pie crumbs crust in the freezer while you attend to the other steps.
Congratulations! You've made a crumb crust and the rest of the recipe to make a pumpkin pie recipe from scratch is incredibly easy.
In the next step, we learn how to cook a fresh pumpkin for the
pumpkin pie filling.
For this step, don't be tempted to use a little less butter or to substitute with oil. The role of the butter is to bind the crumbs together when cool.
From a health perspective, butter is far preferable to other saturated fats with preservatives and even worse, synthetic fats and trans fats. Those are very bad for our health.
While it is far more convenient to use canned pumpkin and a store bought crumb crust, it is my preference to care for my family in the healthiest possible way, so we cook with traditional ingredients our grandparents used before there were all these processed and preserved foods available.
While I agree, making a pie recipe from scratch is such a bother, I still consider it worthwhile to make the effort to make tasty meals and treats with whole foods and natural ingredients.
We consume all the naughty foods like dairy products, chocolate and sugar at home, but we do so in moderation. We make a point to cook well as my grand parents did and they managed without processed foods. We can too.
OK, this is the end of the lecture. :)
---
Leave Pumpkin Pie Recipe From Scratch and explore this site for hundreds of wonderfully simple to make tasty one pot meals prepared in a flash.