Best
Pumpkin Bread Recipe

Here is the last stage of the best pumpkin bread recipe made with cheese, olive and pumpkin bread.



We've covered parts 1 and 2 of this recipe tutorial, where we learned
how to cook pumpkin
so that it retains as much of its natural flavor and is cooked to the appropriate texture for the next stage, where the cooked pumpkin is combined with the no yeast bread ingredients to
make the dough
.
Preheat The Oven
Turn the oven to 425F or 200C.
All the ingredients have been added and the dough is now ready to be baked.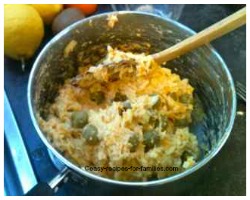 For successful baking, the oven must be already at a constant temperature when the dough is to be baked.
So, turn on the oven to preheat when you're making the dough. This will allow the oven to be pre-heated for say 15 minutes.
You don't want to insert your baking into a cold oven as then your batter or dough will cook unevenly with changes in oven temperature.
Spoon the dough into a non-stick loaf tin or two tins if you want two shallow loaves. My own preference is to make two shallow loaves to save one for the lunch boxes, and the other for the children to eat straight away.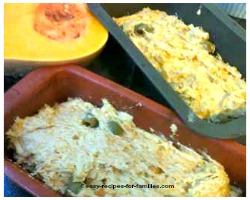 Baked
Bake for 30 minutes till golden brown.
Use a cake tester and when it comes out clean, the no-yeast bread is ready.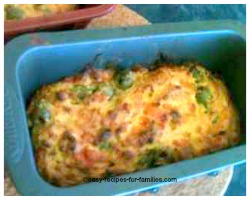 Allow to rest for 10 minutes.
This no yeast pumpkin bread is superbly delicious because the cheese will have melted into the flour and pumpkin.
The melted cheese is extremely hot straight out of the oven, so please take care to let it cool before eating.
Enjoy!
How gorgeous is this!
Enjoy this sensational pumpkin bread recipe!
The best thing about pumpkin is its versatility. Its lovely subtle flavor can be successfully combined with other fruit, vegetables or meat to create wonderfully delicious meals and treats.
That's why I call this particular pumpkin bread recipe the best as it has the flavors that my family love best of all and that is:
cheese
olives
and pumpkin, naturally.
This recipe is incredibly simple to prepare as it really is a matter of throwing it all into a pot.
The skill to make the best no yeast bread comes from knowing what the texture of the dough should be like and the right temperature of the oven.
So, it is best to refer to the photos in this tutorial.
The best dough texture should have all the flour mixed in so that there are no "floury" clumps. Just follow the proportions provided in the recipe and you'll achieve just the right amount of dough moistness.
I love making savory loaves with NO yeast. This is just the best, as there's no fiddling around with gentle handling, mixing yeast, rising times and so forth.
Enjoy making this best pumpkin bread recipe!
---