Butter Chicken Receipe
20 minutes To the Table

I made this butter chicken receipe together with the sides of boiled rice and steamed fresh zucchini in all of 20 minutes!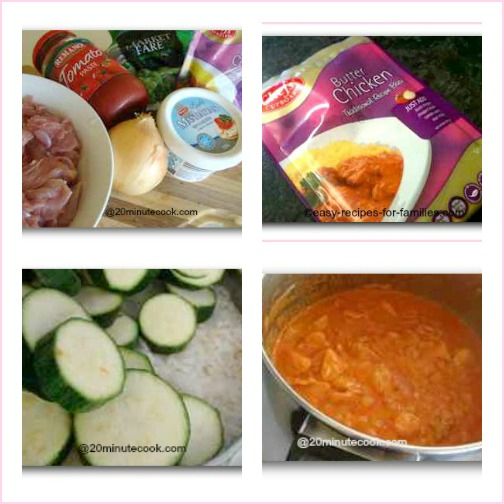 Rating: Easy
Hands On Time:  20 Minutes
Time To Table: 20 Minutes
Butter Chicken in 20 mins

This makes a serving for 4 persons

You'll need:

1/2 pound / 750 grams of chicken meat, cubed

1 onion, diced

1 tbs oil or 1/2 tbs butter


1 packet of Aldi's butter chicken mix

3/4 cup tomato paste

3/4 cup light cream cheese

2 cups frozen peas

1/2 cup water




Either melt the butter or heat the oil in a roomy saucepan for till it's hot and starting to smoke


Toss in the onion and fry till softened - it takes only a couple of minutes


Toss in all the chicken meat and fry a little till browned


Pour in the packet of butter chicken mixture, tomato paste and cream cheese


Mix it all together


Add some water if you think the mixture is too thick


Cover the pan, lower the heat and cook for 10 minutes


Toss in the peas, stir them in, and cover the pot for a further 3 - 4 minutes


That's it done!  Your butter chicken is on the table in under 20 minutes.

Tips From Easy Recipes
How To Get A Meal On The Table In 20 Minutes!

Here is how I get the entire meal on the table in 20 mins.

Cut up the vegetables and lay them on top of the half cooked rice. Cover with the lid and allow the heat from the rice to steam the veg. 


Select an easy receipe with ingredients that are more than likely in your pantry or easily obtainable from your local supermarket. The ideal receipe is one with everyday ingredients that'll create a delicious wholesome meal with the least amount of fuss.


The first thing to do when cooking sides for any receipe is cook the ingredient that will take the longest - and in this instance it's the rice. So, put that on the stove before doing anything else


Start the process with this receipe and heat up the oil. While the oil is heating, and this is only for a minute or so, quickly dice the onion, then toss into the heated oil


Wash up as you go along so that there's never a pile up of dishes for later


There you are, the hero dish from the butter chicken receipe, the rice and steamed vegetables ready within 20 mins!
---