This is easy casserole recipe is a one pot meal marinaded in the casserole dish for several hours then baked topped with bacon rashers and if you like more onions, you can top with more onion rings.
I made two today, leaving one to marinade for tomorrow's dinner party. This is ideal for a dinner party menu as it can be prepared well before the event, cooked in the oven so there's no fussing about the stove while you're busy on the day, and looks divine when served with contrasting colors of white rice and just sauteed greens.
Boeuf St Ives

It looks divine served with fluffy white rice and a crunchy salad.
Absolutely yummy!
Easy Casserole Recipe
Boeuf St Ives

This recipe serves 6 - 8 persons.
Ingredients

Cubed Meat And Sliced Onions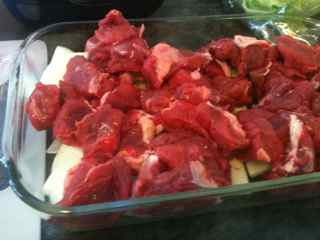 Combine Ingredients

Top With Bacon, Marinade For Several Hours Before Baking

Just Add
Prepare
• 1 1/2 lb/750 gm gravy beef or chuck steak, cut chunkily

• 2 large onions, sliced into wedges

• 1 tbs sugar

• 2 tbs flour

• 2 heaped tbs tomato puree

• 2 tbs soy sauce

• 2 tbs red wine vinegar

• 1/2 cup stock

• 3 shoulder bacon rashers or 6 middle bacon rashers, fat and rind removed

• Optional - another large onion, sliced into rings




• Into a large casserole dish, place all the ingredients, except the bacon rashers and extra onion

• Combine well

• Cover and refrigerate for several hours to marinade

• Cover with foil or with a lid and bake in a moderate oven, 330F/170C for 2 to 2 1/2 hours. For the last 15 minutes, remove the foil or lid and continue baking to crisp up the topping of bacon and/or onions


This Boeuf St Ives is so incredibly easy to prepare and best of all, being a one pot meal, there's minimal washing up.
Now, how easy was that!
~~~~~~~~
Tip
Use a grade of beef like gravy beef or chuck steak which becomes tender in a long slow bake. Rump steak is not appropriate for slow cooking as it becomes dry and stringy.
The proportions of this recipe are easily duplicated so that you can put one in the freezer.
~~~~~~~~
For easy ground beef recipes:
Index To Our Easy Ground Beef Recipes
For more easy dinner ideas:
Easy Dinner Ideas
All our dinner ideas are located in this easy index:
All Dinner Ideas



Wishing you happy cooking!
For more Quick Easy Recipes:
---
Top of Page Easy Casserole Recipe
Boeuf St Ives