Easy Coq Au Vin in 20 minutes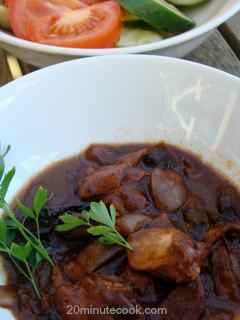 Make this delicious easy coq au vin in just 20 minutes! Coq au vin is french for chicken with wine. It is a deeply rich flavorsome french provincial meal and is ideal if you have left over full bodied red wine for cooking.

It's from our collection of easy recipes with step by step photo tutorials so you can see each stage of the process. 
All the ingredients are readily available in any supermarket.
Rating: Very Easy
Hands-On Time: 5 minutes
Hands-Off Time: 15 minutes
Coq Au Vin In 20 Minutes


This recipe makes 4 serves.

You'll require:

8 mushrooms, sliced

4 bacon rashers, sliced
1 onion
1/2 pound/ 250 gm chicken pieces
2 tbs red wine vinegar
1 ts sugar
salt, pepper
1 stock cube
1 heaped tb flour
2 heaped tb tomato paste
2 bay leaves
2 c red wine



In a non-stick pot fry on high heat, the mushrooms and bacon pieces


If you have time, in a separate bowl, marinade the chicken pieces with salt, pepper, sugar and red wine vinegar. But I never have time, so it's marinaded for all of 1 minute!


Add onion and chicken and fry till the onion is soft


Toss in the flour and mix through so that there are no lumps of flour


Toss in all the other ingredients and mix together


Turn the heat down to medium high, cover with a tight fitting lid and allow to rapidly simmer for 15 minutes and the sauce will thicken


Serve hot with crusty french bread and a fresh green salad


Step By Step Photo Tutorial
Easy Coq Au Vin

Click on each photo for a larger image and for complete instructions.

Delicious!  Serve this rich coq au vin with its deep rich red wine flavor with crusty french bread and a crunchy salad.

Tips From Easy Recipes

Cut the bacon into strips with your kitchen scissors.  Don't bother using a knife. Truly, kitchen scissors make work so much quicker. Cut the bacon right over the pot and allow the strips to drop in as you cut.


Never season mushrooms before they are cooked else they'll sweat. So cook them first before adding seasoning.


If you have time, marinade the chicken for a couple of hours in the refrigerator, by putting the seasoning and meat in a plastic bag. But I never have time so it's quickly marinaded for a minute or so before cooking.


Now this coq au vin is a richly flavored meal, so be sure the sides are not overly tasty. Balance the meal with a contrast of flavors and textures. The coq au vin is soft and has a rich sauce, so serve with a crunchy fresh salad with little to no dressing and with crusty french bread.
---