This has to be the simplest of easy food recipes. It's just combining flour, cheese and ham with milk and oil, shape it into a loaf and bake it for 35 minutes.
The result is a delicious ham and cheese damper, ideal for an afternoon snack or for lunch.
Easy Ham n Cheese Damper

Absolutely yummy!
Easy ham and cheese damper

Easy Ham n Cheese Damper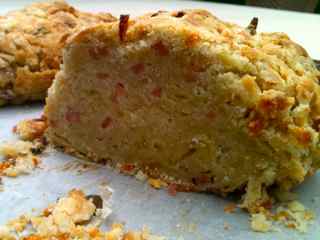 This recipe makes 2 loaves and serves 8 - 10 persons.
Serve hot with lashings of butter.
Just Add
Prepare
• 4 cups of self raising flour

• 3 cups shredded tasty cheese

• 2 cups ham or bacon bits

• salt and pepper to taste

• 1 cup milk

• 1 cup good quality cooking oil.




• Preheat oven to 360F/180C

• Line a baking tray with grease proof paper

• In a large mixing bowl, combine all the dry ingredients

• Make a well in the center and pour in milk and oil. Combine well. The mixture will form into dough

• Use clean hands to form two loaves of dough

• Place shaped loaves onto the baking tray

• Bake for 40 -45 minutes till golden brown


This easiest of easy food recipes is so yummy served hot straight from the oven. Slice the damper in thick slices and serve with lashings of butter.
Now, how easy was that!
Tip

Make double this quantity to give away as gifts.
This tasty damper is deal for school lunch boxes.
For extra tastiness, top with extra bacon and Parmesan cheese.
~~~~~~~~
Wishing you happy cooking!
---
Top of Page Easy Food Recipes | Easy Ham n Cheese Damper


Go To: More No Yeast Bread Recipes