Easy Potato Recipe
Potato n' Chorizo Omelet

This easy potato recipe is a one pot meal that is ever so easy to prepare. Not only is this super easy, but it is also one of our cheap quick easy dinner recipe and ideal as an inexpensive meal.

It takes just two steps, firstly cook the potatoes, then add the other ingredients and allow to set.

Cut into generous thick slices and serve with pasta or mashed potato. It's delicious!


Easy Potato and Chorizo Omelet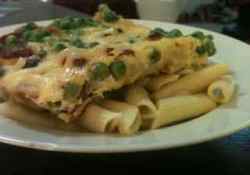 Rating:
Easy
Ingredients:
6
Steps:
2 then allow to set
This recipe makes enough for 6 - 8 serves.
Ingredients

Tip: Slice Chorizo Thinly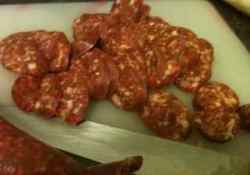 Step 1 : Cook the potato and onion till soft.
Add a little water and cover the pan

Optional : If you'd like to add mushrooms,
move the potatoes to the side and cook the mushrooms separately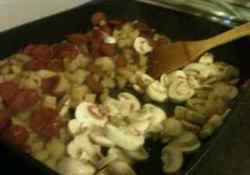 Step 2: Pour over beaten eggs and shredded cheese
Top with peas
Let it set on slow heat for 20 minutes

The omelet is beautifully set

Easy Steps:
Step 1 - Cook potato till soft
Step 2 - Add remaining ingredients
Step 3 - Cook till omelet sets
Just Add
Prepare
• 5 medium size potatoes, diced small

• 2 chorizo, sliced thinly

• 8 eggs, beaten

• 1 1/2 cups shredded cheese

• 1 cup frozen peas

• 10 mushrooms, sliced (optional)



• In an electric frypan on moderate heat, cook finely diced potatoes with a quarter cup of water

• Season with salt and pepper

• When the potatoes are cooked, add the sliced chorizo and cook for a few minutes

• If you are adding mushrooms, move the potato and chorizo to one side of the pan and cook mushrooms till cooked. Do not add seasoning till cooked.

• Combine well. Pour in beaten egg

• Lower heat to slow heat so that the omelet sets without burning.

• Sprinkle over shredded cheese then frozen peas

• Leave it to cook and set. This will take about 15 minutes.


Enjoy this easy dinner recipe! My family loves this tasty potato dish and it is on my favorite list of cheap quick easy dinner recipes.
Tips
Use non-stick electric frypan so as to avoid the use of cooking oil.
Do not cover to allow the top of the omelet to firm up and crisp.
~~~~~~~~~~~
Now, wasn't that just the simplest easy potato recipe? We've found the potato offsets the overly tasty chorizo perfectly.
---