Our fast easy recipes includes this easy appetizer recipe for Divine Cheese Balls. I served them at my dinner party last night and they were a success. You know when they're right, when they're demolished in no time at all!
Divine Cheesy Balls

Either make them fresh - it takes no more than 30 minutes from go to whoa, or make several to freeze.
You can make them the traditional method by rubbing butter into the flour, but I choose to make them using rice bran oil which is much healthier. Good quality vegetable oils like sunflower oil and rice bran oil do not have saturated fats and naturally this helps with minimizing our consumption of cholesterol.
Furthermore, combining oil with flour is a much quicker process. The end result, I find is identical.
These cheese balls are also ideal for packed school lunches or for a pot luck dish. Oh yes, they're also terrific for picnics. They store well in an air tight container.
Absolutely yummy!
Fast Easy Recipes
Divine Cheese Balls

This recipe makes about 45 heavenly little cheese balls.
Serve as an appetizer or to have as snacks.
Ingredients

Butter and Oil Combined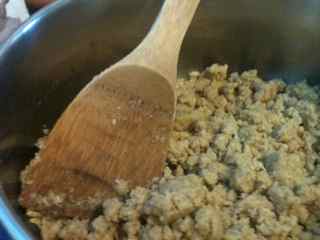 Place Dough Balls On Silicone Bakeware

Just Add
Prepare
• 3/4 cup oil

• 1 1/2 cups plain flour

• 2 cups shredded cheese

• 2 eggs, beaten

• salt and pepper

• 1/2 cup shredded Parmesan cheese

• egg wash




• Preheat oven to 390F/200C

• Combine oil and flour. It will look lumpy

• Add the cheese, salt and pepper. Combine

• Add beaten eggs. Mix into a dough

• Use clean hands and take a spoonful of dough and squeeze into balls

• There is enough dough to make between 40 to 45 little cheese balls

• Roll each ball in shredded Parmesan Cheese

• Place on non-stick baking tray, else line and grease a baking tray

• Brush beaten egg (egg wash) over each ball as it helps with the browning

• Bake for 15 minutes till golden brown


This is so very simple, that the children can contribute to the dinner party by making these super easy cheesy balls.
Now, how easy was that - truly one of our fast easy recipes!
~~~~~~~~
Tip
I advocate using non-stick silicone bake ware so as to omit the process of lining and greasing baking tins. Not only does it take time to do this, but there's more grease or fat being consumed.
Using good quality cooking oil with a high flash point such as sunflower oil or rice bran oil is far preferable to the use of saturated fats like butter. (I too, love the taste and feel of butter, but as we all know, it's not such a healthy choice)
~~~~~~~~
For more easy appetizer recipes:
Index for Elegant Appetizers and Ham and Polenta Mini Cakes
For easy dinner party ideas:
No Fuss/Easy Dinner Party Menus
For easy snack recipes:
Easy Brownie Recipe And Other Snacks



Wishing you happy cooking!
For more Quick Easy Recipes:
---
Top of Page Fast Easy Recipes
Divine Cheese Balls


Go To: More Easy Appetizers