Budget Homemade
Beef Stew Recipe
I made my budget homemade beef stew recipe this evening and it was a big success. The kids ate it all up and came back for seconds.

Best of all, easy recipes using chuck steak are economical and this easy dinner recipe flavored with onions and worchester sauce for all four of us cost a mere $5.00 - that works out to be $1.25 per meal!


Gen's Budget Homemade Beef Stew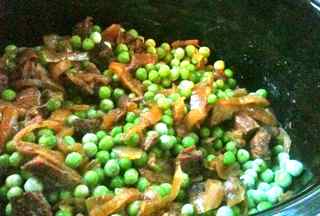 I love easy slow cooker recipes, such as this as it takes just minutes to prepare and you just walk away while it's cooking. Further, slow cooker recipes are easy on the use of energy. Slow cookers win in all ways!
Ingredients for Budget Beef Stew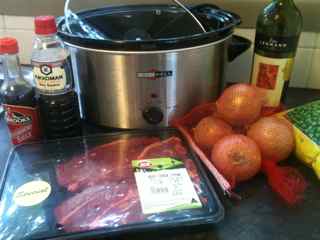 This makes enough for 4 serves of stew.
This meal is ideal for freezing.
Just Add
Prepare
• 1 1/4 lb/ 600 gm gravy beef, diced

• 3 large onions

• 2 tbs worcester sauce

• 2 tbs soy sauce

• 1 cup red or white wine

• 2 cups frozen peas



• Throw all the ingredients except the peas, into the slow cooker. Mix

• Cook on low heat for 6 - 7 hours

• Half an hour before serving, stir in the frozen peas. The retained heat is sufficient to warm through the peas


Serve this yummy meal with plain, fluffy white rice or unsalted boiled potatoes.
Tips
Beef stew requires a cut of meat that is suitable for slow cooking such as gravy beef or chuck steak.
If you wish to add more liquid while the slow cooker is hot, be sure to add only very hot liquid. Adding cold fluids may crack the ceramic pot.
Garnish with parsley or chives if you wish.
~~~~~~~~~~~
I just love this homemade beef stew recipe because it is so simple to make and the children unfailingly love this dish.
---