How To Cook A Pumpkin
Learn how to cook a pumpkin to make a pumpkin pie filling for this elegant divine best pumpkin pie in delicate filo pastry.

The swirl of filo is filled with alternate rolls of pumpkin and spinach filling. These pages show how to cook the filling, but that's the easy part of the recipe.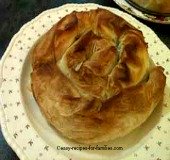 Here's how to cook a pumpkin for the filling for this delicate swirl pie.
Step 1:
Trim, remove seeds, wash, cut into chunks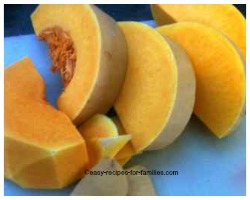 Step 2:
To cook the pumpkin, pop them into a saucepan with salted water and boil till very tender.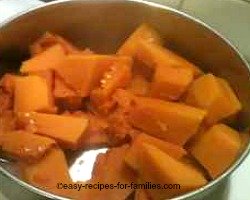 Step 3:
Puree the pumpkin using a potato masher. You can use a blender, but there's such a small amount that a masher will do just fine.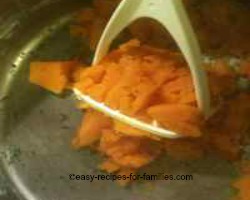 Step 4:
Add half the amount of Fetta and Ricotta Cheeses.
Combine them well.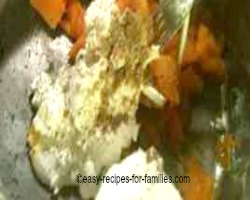 Step 5:
Season the pumpkin pie filling.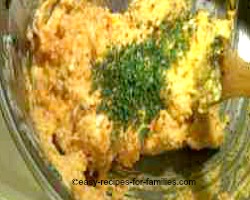 Do a taste test and add more seasoning as suits your taste.
Leave this aside for the moment while you attend to the other steps.
Tips for cooking a fresh pumpkin
To cook a fresh pumpkin, it is easiest to cut the fruit in half firstly, then into manageable slices before trimming the hard skin. It's just far too difficult to handle this hard fruit, otherwise.
It is then easy to cut off the outer skin from slices of pumpkin.
The next step is to remove the seeds.
Wash the pumpkin.
Then cut into chunks to suit the recipe.
Pumpkin is such a versatile fruit. It can be used in either sweet or savory dishes as it easily absorbs flavors.
For savory dishes, such as this pie filling, cook in salted water. Add a little more salt than you would usually would in cooking.
Take care when you cook, that there is sufficient water so that it does not boil dry. Pumpkin just sucks up the liquid.
However, I don't add too much water either so that all the flavor is not wasted in the excess liquid which is drained away. My general rule of thumb is to fill the sauce pan so that the water level comes to about half way up the level of the fruit.
But this changes, depending on the variety of pumpkin and its ripeness.
---
Discover


hundreds of wonderful super easy recipes for delicious meals you can whip up with little effort.