Kids
Easy Recipes
Crisp Coconut Cookies
Kids
Easy recipes that are quick and produce a tasty cookie are just the thing to get children interested in cooking.
These crisp coconut cookies fit the bill perfectly as easy recipes for kids - it is mixed in one pot and baked for just 9 minutes.
Rating:
Easy
Ingredients:
6
Steps:
2 then bake
These coconut cookies are crisp and ideal for the lunch box.
Crisp Coconut Cookies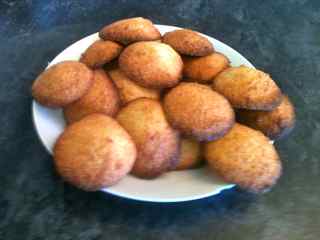 As with all our easy recipes, you require simple equipment - a wooden spoon and a large saucepan, then a cookie sheet to pop in the oven.
As usual to get the best result, use a good quality butter and do not substitute with margarine, ever! Use good quality coconut as well.
Easy Steps:
Step 1 - Mix the ingredients in a saucepan
Step 2 - Spoon teaspoon amounts onto a cookie sheet and bake
This recipe makes about 30 cookies.
Please supervise the children when melting butter. It is best, if you do this step for them.
Just Add
Prepare
• 3 oz /100 gm butter

• 1 cup sugar

• 1 egg, beaten

• 3/4 cup self raising flour

• 3/4 cup plain flour

• 1 cup desiccated coconut

• a pinch of salt



• Preheat oven to 360F/180C

• Melt together butter and sugar. Stir till it becomes a thick smooth slurry

• Add the beaten egg

• Add flours, salt and coconut. Combine

• Using a teaspoon, spoon round amounts onto a cookie sheet

• Bake for 9 minutes. It will be golden brown. Take it out immediately on baking


Tips
Use non-stick bake ware to eliminate the step of greasing and lining your baking tins.
These cookies will harden as they cool, so don't bake them for any longer or they'll be overcooked.
~~~~~~~~~~~
Kids
Easy Recipes that produce a lovely tasty outcome in a short time is exactly what they'll enjoy making. They will love these crispy coconut cookies.
---