Pumpkin Pie Crumble Topping
On this page, we learn to make the pumpkin pie crumble topping. This page is a set of 3 in the easy recipes tutorial for a sensational yet so simple dessert, pumpkin pie with a crumble topping.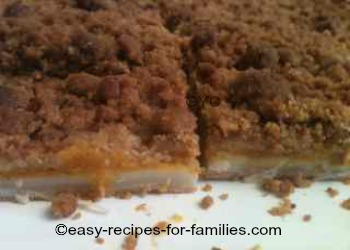 As with all our easy recipes, this dessert pie with a crumble topping is very simple to make. If you'd like the full recipe, just click on the button:
Here's how to make the pumpkin pie crumble topping
For this part of the recipe, you'll require:
Equipment:

a square baking tin
greaseproof baking paper

2 1/2 cups plain flour
5 1/2 oz/ 150 gm butter
1 1/2 cups brown sugar
1 ts cinnamon
Step 1:
Tip the flour and butter into a roomy mixing bowl. Use a large saucepan if you don't have a mixing bowl.
Using a blunt butter knife, cut the butter into smaller and smaller pieces into the flour, coating it each time with flour as you cut it.
The process is called "rubbing in the butter" and the objective is to rub the butter into the flour till it looks like little crumbs.
The easiest way to do the rubbing in, is to keep cutting the butter till it become small pieces in the flour and then, use your finger tips to rub it in even further.
Then tip in all the brown sugar and cinnamon spice and mix it together.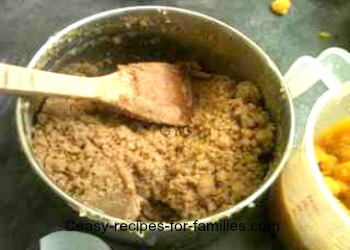 That's it! That's the pie crumble topping done.
How easy was that!
Leave it for the moment while you attend to the pastry and pumpkin puree.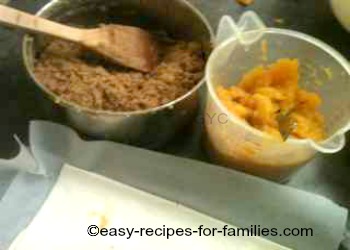 Congratulations! This was the hardest part of this easy pie and it wasn't at all difficult was it?
For most recipes requiring the process of "rubbing in", here's an easy method. But I don't recommend this unless you have some baking experience. Use vegetable oil or melt the fat in a roomy saucepan and take it off the heat as soon as it's melted. Tip in all the flour and combine quickly till it looks crumbly, taking care that it does not clump together.
To make the crumble topping, then add spices and sugar.
---
Leave Pumpkin Pie Crumble Topping and explore this site for loads of simple to make, but Oh, So Delicious Pumpkin Recipes!