Elegant Pumpkin Pie Filling Recipe
This outstanding pumpkin pie filling recipe is a combination of flavors of seasoned and spiced pumpkin and marinaded chicken pieces quickly pan fried. The delicious filling is encased in delicate sheets of filo to create this beautifully presented filo pumpkin pie.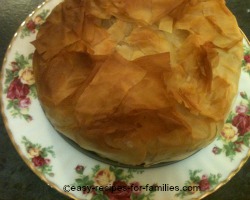 In the first stage of this tutorial, we learned
how to cook pumpkin pie from scratch
and in this section, we'll cook the very delicious marinaded meat filling.
Marinaded Chicken Pie Filling
Ingredients:
• 1 pound/ 500 grams chicken pieces
• 1 tablespoon oil
• 2 tablespoons soy sauce
• 1 generous teaspoon cornflour
• salt, pepper
Step 1: Marinade
Firstly cut the uncooked meat into 1 inch sized pieces. Them marinade by combining it with all the ingredients as above.
Then, cover the meat and leave it in the refrigerator to marinade and just soak up the flavors.
It is best to start the marinading process overnight or at least at the start of the recipe, so as to allow time for the chicken meat to soak up the marinade. You will find meat left to marinade for longer has a deeper fuller flavor.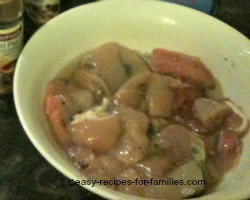 Stage 2: Pan Fry
In a non-stick fry pan on high heat, pan fry the marinaded meat. Brown, then turn down the heat to medium and cook till it's done.
Non-stick cookware is always prefered to reduce additional oil in cooking.
As we know, our hips are thankful for every little bit of fat not consumed.
Else, heat a tablespoon of polyunsaturated vegetable oil in a hot pan, then cook the chicken. Rice bran oil is my preferred oil, as it's suitable for high temperature cooking.
This process of pan frying takes just a few minutes to brown then cooked well.
Step 3:
This process is now complete and we move to the next stage of preparing the very fragile sheets of filo.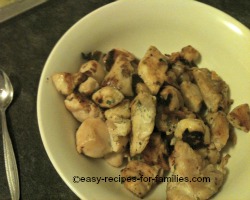 ---
Back To: Pumpkin Pie Filling Recipe With Marinaded Filling



Learn from our step by step


easy recipes. Check out our hundreds of recipe and meal ideas. There are loads of recipes like this, with step-by-step photo instructions.