Pyrex Bakeware 4.8 Quart Oblong Baking DIsh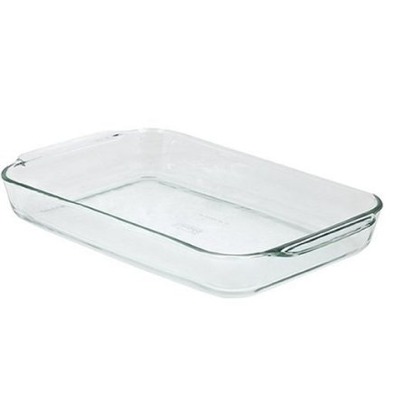 Pyrex Bakeware 4.8 Quart Oblong Baking Dish, Clear


About The Pyrex Bakeware Oblong Casserole Dish

The Pyrex oblong casserole dish is 4.8 quarts


The glass is clear


The advantage of glass is that it is inert and will not leach odors or metallic taste into food


The dimensions are 15 inch x  10 inch x 2 inch


Safe for use in the oven, fridge, freezer and microwave


Although I do not recommend putting the item straight from the refrigerator into the oven


Made in the USA


I use this for all sorts of baking and besides casseroles, jumbo portions of lasagna, it is ideal for baking roasts, brownies and slices as it can go directly from the oven to the table.  I've even done a roast chicken complete with the compliment of roast potatoes and onions in this roomy rectangular pyrex casserole dish


CAUTION: Reviewers report that since 2010, Pyrex in the USA uses a new glass formula which has (in my  opinion) too many incidences of spontaneous shattering and exploding.  I've used my pyrex items for years and have always found them to be reliable and durable. It is also reported the European manufactured Pyrex items are of the classic formula. I don't know that I'd choose to purchase a new pyrex item made in the USA. 

---