I have added this excellent "pielets" recipe to my collection of quick and easy dinner recipes as it was a stunning success. There I was with nothing in the fridge for dinner, other than ingredients for breakfast of bacon, eggs and cheese.
Bacon And Egg "Pielets"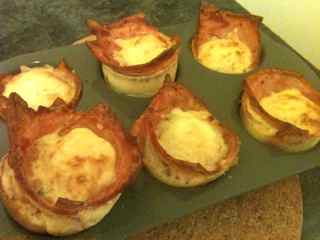 An omelet would've been possible but an inventive idea was even better and much easier.
So, the ingredients went into a muffin tray and were baked for 30 minutes. Don't they look fantastic! These mini "pies" taste sensational.
Quick And Easy Dinner Recipes
Bacon n Egg Pielets

This recipe makes 10 bacon and egg mini "pies". Allow 2 for light eaters and 3 - 4 for the hungry males in your family.
Serve with short pasta and just cooked greens.
Just Add
Prepare
• 5 large shoulder bacon rashers or 10 middle bacon rashers

• 6 eggs beaten

• 1/4 cup milk

• salt and pepper to taste

• 1/2 cup shredded tasty cheese




• Preheat oven to 360F/180C

• Line each muffin mold with a rasher of middle bacon or 1/2 a rasher of shoulder bacon. Tear the rasher in half, so that the two rashers cross over. Press in the center so that the rasher sits well inside the mold.

• Beat the eggs well. Add milk, salt and pepper to taste and beat in.

• Pour the egg mixture into the bacon lined muffin molds, so that it's divided amongst the 10 muffin molds.

• Pop some of the shredded cheese into each mold

• Bake for 1/2 hour till golden brown


This really fits the bill for quick and easy dinner recipes, and it really is creating a quick dinner from whatever is available in the fridge.
You'll find these mini "pies" a real treat for the family.
~~~~~~~~
Tip
Use a non-stick muffin trays so as to avoid the procedure of greasing and lining them. This helps reduce our consumption of fat.
If you have some chives, cut some to garnish these little "pies".
~~~~~~~~
For more easy dinner recipes:
At the bottom of this page on the best roast pork ever, is a list of easy dinner recipes
All our dinner ideas are located in this easy index:
All Dinner Ideas
For easy slow cooker recipes:
Tasty Easy Slow Cooker Meals


Wishing you happy cooking!
For more Quick Easy Recipes:
Top of Page Quick And Easy Dinner Recipes
Bacon n Egg Pielets