Recipe For Ground Beef
Ground Beef Wellington
This elegant recipe for ground beef, is not one of my cheap quick easy dinner recipes. It is fiddly to make but the result is divine and it looks sensational!


Ground Beef Wellington

Layer meat mixture, cheese and spinach and then reverse the layers

Rating:
Moderate
Ingredients:
10
Steps:
4
It makes for a lovely meal to include in a dinner party menu
Ingredients

Prepare meat mixture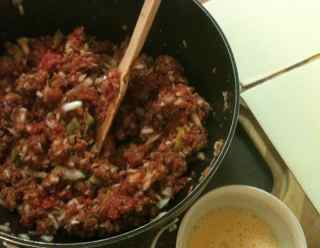 Join pastry sheet by overlapping the half sheet of pastry. Use a little water at the join

Layer meat mixture, cheese layer then spinach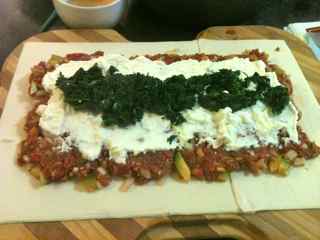 Repeat the layers in reverse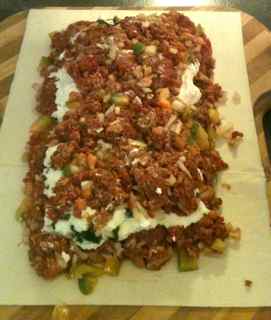 Top with pastry, decorate with excess pastry bits and apply egg wash

Here it is!
Beautifully golden brown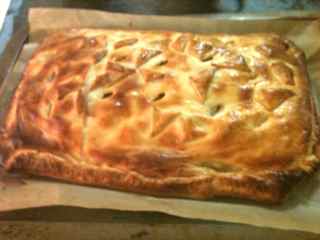 Serve with dark green veg like brocolli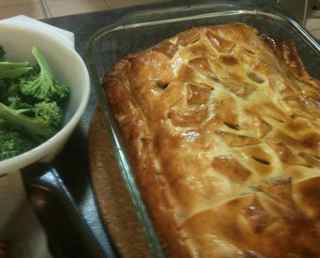 Ground Beef Wellington Plated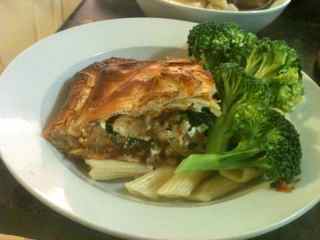 Enjoy this scrumptious meal!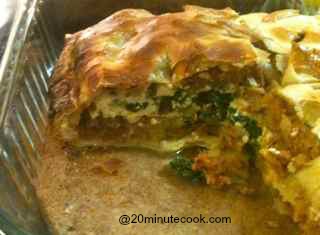 Ground Beef Wellington
An Elegant Recipe For Ground Beef
Easy Steps:
Step 1 - Season ground beef
Step 2 - Layer pastry, ground beef, cheese and spinach
Step 3 - Cover with pastry, decorate pastry
Step 4 - Bake
Just Add
Prepare Savory Ground Beef
• 1 lb/500 gm premium ground beef

• 1 onion, diced finely

• 1 capsicum, diced small

• 2 tbs tomato paste

• 1 1/2 cups breadcrumbs or weetbix

• 2 eggs, beaten

• 2 heaped ts stock powder

• salt and pepper to taste



• Preheat oven to 3900F/200C

• Combine all ingredients


Layer Filling On Pastry
• 3 sheets of puff pastry

• 3/4 pound /375 gm ricotta cheese

• 2 cubes/ 1/2 cup of frozen spinach

• 1 egg, beaten for egg wash



• Cut 1/2 sheet of pastry and join to a full sheet. Use a little water where the pastry joins and press down firmly with your fingers.

• Prepare a second sheet with 1 1/2 sheets of pastry, for the top

• Lay the base sheet of pastry on greased large oblong oven proof tray, so that you can serve it directly from the oven

• Spoon 2/3 of the meat mixture onto the pastry sheet. Use a flat spoon or spatula to compact the meat mixture. Leave a margin around the pastry sheet of about 3/4 inch.

• Layer with half the ricotta cheese

• Layer with the spinach as a center strip

• Reverse the layers, with the remaining ricotta cheese, the rest of the meat mixture and top with another sheet of joined 1 1/2 sheets of pastry

• Fold the top sheet of pastry over the mound of layered meat and cheese filling. Press the top and bottom sheets of pastry together firmly, using a fork to firmly encase the filling.

• Trim away any excess pastry to use later to decorate. Fold the bottom pastry sheet up so that the meat is firmly enclosed.

• Cut small holes in the top of the pastry with a blunt knife. Decorate with surplus pastry. Brush with an egg wash

• Bake for 45 minutes till golden brown


This pastry encased recipe for ground beef is just beautiful!
It's just lovely for a dinner party as the golden pastry looks sensational.
Serve with brocolli florets for a contrast of colors. Be sure not to overcook the brocolli so that it retains its sharp dark green color.
Tips
The egg wash browns the pastry so, be sure to brush it all over the pastry.
Dice onions and capsicums finely so that it blends in snugly with the ground beef
~~~~~~~~~~~
This elegant recipe for ground beef is a beautiful meal to serve to guests that can be made on a budget.
Although I consider this one of my easy recipes, it is simple but time consuming to put together. Nonetheless, it is worth every bit of the effort.
---