Valentines Day Food
A Romantic Menu

To prepare a lovely special romantic evening, here's a Valentines Day Food Menu that is just perfect. They key is:
Simplicity
Elegance
A balance of colors

Keep the recipes really easy so that you're not flustered and rushed

Valentines Day Menu 
Be sure the food selected is bought fresh and of the highest quality.

Freshly Shucked Oysters
 
Elegant Champagne Cocktail

Quickly Pan Fried Lamb Cutlets

Baked Pumpkin and Apple Salad

Coffee Panacotta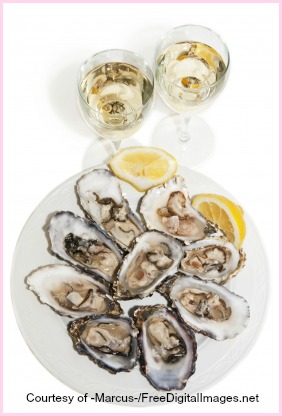 Oysters
Now, you do know that oysters is the food of love. It is thought to be an aphrodisiac and is the ideal valentines day food!
The secret to serving oysters is to be sure they are purchased fresh on the day and buy only shucked ones. This means the shell has already been removed so that the oyster shell sits beautifully presented in the bottom half of its shell. It won't wobble around as it is connected to the shell by muscle tissue.

Serve fresh oysters with a dash of freshly squeezed lemon juice and if you can afford it, have a tiny spoonful of caviar alongside. Caviar is horrendously expensive so red roe will do just as well.

Allow 6 per person.
An easy way to serve fresh oysters is to arrange them on a bed of lettuce leaves with a wedge of lemon.

An Elegant Champagne Cocktail
This cocktail recipe is priceless - it is so incredibly simple and just sensational!
Into each champagne flute (these are tall narrow special champagne glasses) place
A teaspoon of fine white sugar. Caster sugar is best if you have it in your pantry.
Drop in 4 drops of Angostura bitters. This gives the cocktail depth of flavor. Let the bitters absorb into the sugar crystals.

Now add 1 teaspoon of brandy. If you're feeling wicked add a little more. This give your drink some kick.
And fill the flute with a lovely chilled bubbly - a crisp, clear sparkling white wine or if the budget permits, the real thing - Champagne.
Garnish with a lovely strawberry

It's just beautiful to start a lovely evening with a sophisticated elegant bubbly.

Cocktail recipes like this are worth keeping - they're super easy and takes no time at all.

Quickly Pan Fried Lamb Cutlets
The secret to a successful Romantic Dinner is to keep the Valentines Day food simple, quick to make and with no fuss. A meal is best when you taste the quality and freshness of the produce.
I've selected this cut of lamb because they take just minutes to cook.
Heat the skillet till hot and then add in a knob of butter.
When the butter is melted and just starting to brown, pop in the meat. The idea is to brown them on each side - it takes just a minute or two on each side. Cutlets are thin and this will cook them internally as well.
Splash some balsamic vinegar with some salt and pepper into the pan. It'll sizzle and reduce.  The pan juices are delicious and the caramelized lamb cutlet will be just perfect.

Lamb is perfectly cooked when it is still just a little pink in the center.
Depending on one's appetite, I allow 2 portions for a lady and 3 to 4 for a man.
Lay them attractively on a bed of mashed potato.
To see the rest of how these easy recipes are put together just click on this button to go to page 2 of this romantic Valentines Day Dinner Plan.

---
Leave Valentines Day Food to be inspired by loads of elegant yet ever so easy recipes!