Totally Bamboo Cutting Board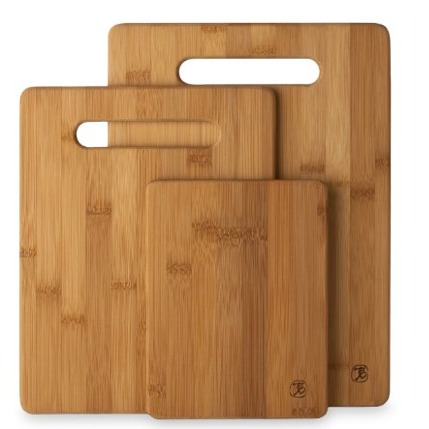 Totally Bamboo Cutting Board: 20-7930 3-Piece Cutting Board Set


About Totally Bamboo Cutting Board

Comes in a set of 3


Dimensions: 9-1/2 by 13 inches; 8-1/2 by 11 inches; 6 by 8 inches; each board has a thickness of 3/8 inch


Constructed of attractive and strong Moso Bamboo


Durable and easy to maintain


Wash with warm water and occasionally oil with Totally Bamboo's Revitalizing Oil to extend life and beauty


Reviewers have ranked this cutting board a 4 star product but warn of the importance of rubbing in mineral oil daily in the first month then monthly thereafter.  Like any natural product it needs
to be seasoned to prevent drying out and splitting.


Never place in the dishwasher to wash


As with wooden cutting boards, this natural bamboo product will absorb meat juices. So, mark them for separate uses   - one for meat, one for chicken, another for veg.


---