Hearty Camping Recipe
So Easy The Kids Can Do This

This camping recipe, Minestrone soup is a quick one pot meal that is easily prepared in a large soup pot or in the dutch oven. This recipe is a throw everything in the pot meal and a simple enough recipe for the children to prepare.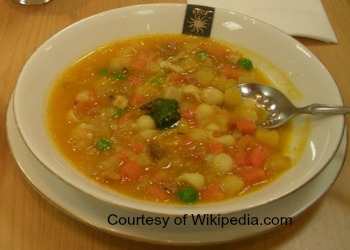 Minestrone features as one of our easy recipes, and this has been modified to make it even easier as recipes for camping.
This Camp Minestrone Recipe is a thick vegetable soup with pasta or rice and to make this a meal, add in inexpensive diced ham steaks. It's hearty, tasty and just full of goodness.
Here are soup vegetables the children can cut up easily to throw into the soup pot.
These are the recipe ingredients for 8 persons. This hearty soup recipe is suitable for increasing or reducing in proportion to the number of serves required.
In a large pot, such as a dutch oven, throw in all the recipe ingredients:
1 lb/ 500 gms ham steaks cut chunkily
2 onions, diced
2 carrots, diced
4 potatoes, diced
2 sticks of celery, diced
6 cups of water
6 tsp stock powder
1 can of red kidney beans, including liquid
1 can of diced tomatoes, including liquid
Bring the contents of the pot to a boil, then simmer for 15 - 20 minutes.
Add in 4 cups of cooked short pasta. Stir through to warm.
Serve piping hot with buttered toast and a crunchy salad.
This camp recipe makes an easy satisfying dinner that can be whipped up within 20 minutes.
As you know, as scout leaders, we have years of camping experience and are always on the look out for easy meals such as this recipe, to modify for camp outs. Here's
How To Select The Best Recipes For Camping
.
---
Leave this Hearty Camping Recipe to explore our easy cookie recipes. Bake some quickly to take with on your camping trip.