Chicken Noodle Soup Recipe


Totally E-A-S-y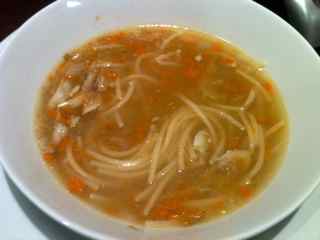 OK. I'm going to share here my chicken noodle soup recipe. It's my short cut, totally lazy way to make this very delicious soup that my family enjoys.
Naturally, if you're after a healthy soup, make the pure stock from scratch.

Short Cut Chicken Noodle Soup


6 cups of chicken stock


1 can/8 oz/250 gm/ 1 1/2 cups corn kernels


2 carrots diced small


1 onion, diced small


a handful of uncooked spaghetti or linguini


sprinkling of diced parsley


Pour the stock into a soup pot.

Bring to the boil with carrots and onion. Turn the heat to low till the vegetables are soft

(Optional) For a thicker soup, add dehydrated mashed potato and add one table spoon at a time till it is the desired consistency.


Break up the dry noodles or long pasta and cook till al' dente.

Stir through the corn.

Serve with a sprinkling of parsley.

There you are!
A delicious chicken noodle soup done in less than 15 minutes!

Tips
To make a nutritious pure chicken soup from scratch, we show you how to trim a chicken, and fillet it for the carcass.


For a thicker soup, blend the vegetables together with a cup of thickened lite sour cream before adding the noodles and corn


If you like garlic, add one clove of diced garlic and bring to boil together with the vegetables. Garlic adds depth of flavor.


When adding dehydrated mashed potato as a thickener, do this gradually, as it thickens quite quickly. Be sure to add just one tablespoon at a time and stir it in firstly before adding the next spoonful.


This is a quick recipe for dinner parties as it presents beautifully and is incredibly easy to make.

---
Easy Recipes | Easy Soups | Chicken Soup Recipes | Chicken Noodle Soup Recipe