Christmas Party Recipe
Chocolate Log
You can't go past this easy Christmas Party Recipe for a delicious, elegant looking Christmas dessert. A chocolate log is an all time favorite easy recipe!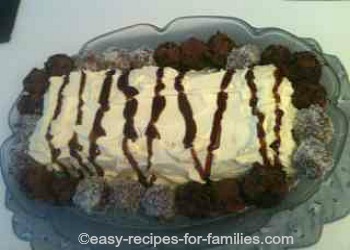 You've joined us on this page, where we learn how to make up this yummy party recipe. This Christmas log is ideal for sensational pot luck recipes.
If you'd like the full recipe, just click on the button:
Here's how to create the
Christmas Log
For this part of the recipe, you'll require:
A lovely long or oval Christmas platter
Cream
Nutella
Pour the cream into 2 jugs.
Whip each container till very thick.
Reserve one container for the topping. Keep it refrigerated till required.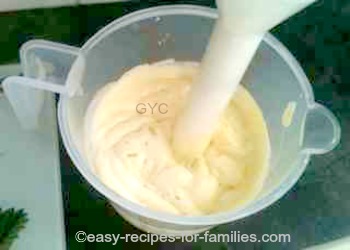 Spread about a quarter from one container, onto the base of the platter.
Spread a little nutella then cream onto each ginger nut cookie.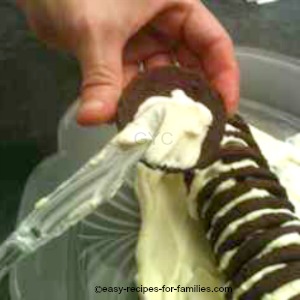 Sit them on edge, upright on the bed of cream.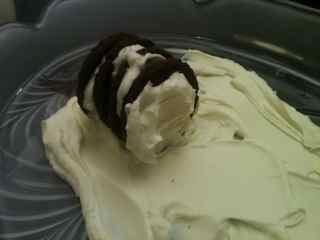 Repeat the process till all the cookies from one packet form a sandwich log.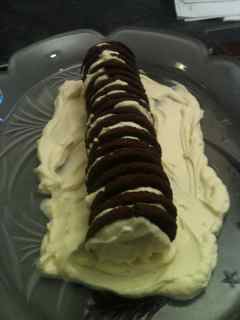 Repeat again with the next packet of cookies. Place the sandwiched cookies right up close to the first roll.
Occasionally squish the sandwiched cookies together so that the rolls are snug and firm without being tight.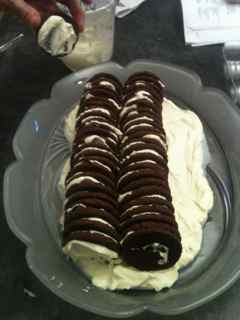 In the next easy step, we learn how to put the final touches onto this elegant party recipe.

Tips For Easy Recipes

I use ginger nut cookies as their hard and crunchy texture means they remain firm while soaked in sherry and coated in cream for hours. You may substitute with plain chocolate cookies, but if you do so, serve immediately. Plain cookies become overly soft with the addition of liqueur and the coating of cream.

A long oval Christmas platter is just perfect for displaying this party dessert. The secret to easy cooking is to always use the best quality ingredients, not to over-work the recipes and present on attractive table ware.


---
Leave Christmas Party Recipe to discover loads of wonderful yet easy recipes and festive ideas!