A Favorite Christmas Recipe
Christmas Chocolate Log


In this last stage of the tutorial for this favorite Christmas recipe, we'll learn how to put the finishing touches to this incredibly easy but very delicious Christmas Log. This sensational dessert is yet another of our easy recipes that looks fantastic and takes little effort.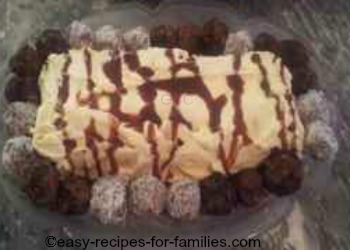 If you'd like the full recipe, just click on the button:
To go to the previous step of this tutorial where we learned how to layer the cookies to make up this favorite Christmas recipe, click on the button:
Final Easy Steps To This Creamy Delicious Favorite Christmas Dessert
For this stage, you'll require:
The sandwiched cookies made into two rolls
The remainder of the whipped cream
Chocolate sprinkles or topping for decoration
Optional: truffles
Using a small teaspoon, gently spoon the sweet sherry or rum onto the cookies, taking care not to wet the cream nor Nutella.
Spoon the whipped cream from the reserved container onto the cookie sandwiched rolls and spread out along the top and sides so that it is completely covered, like a snow covered log.
Give the topping a rough texture.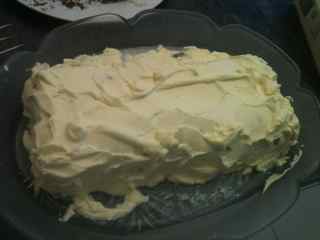 Cover with cling wrap and chill for 2 - 4 hours.
Use a scaffolding of toothpicks and lay the cling wrap over the toothpicks.
Look at this - you'll see the cling wrap is suspended over a grid of toothpicks.
Lay the plastic cling wrap over the toothpicks.
It's now covered. Chill it till it is time to be served.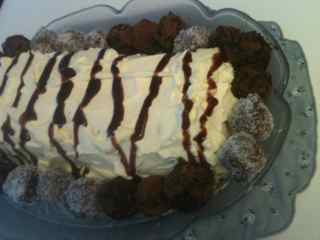 Just before serving, decorate with chocolate topping, sprinkles or shavings from a block of chocolate. To obtain shavings use a vegetable peeler on the block of chocolate.
If you've made truffles, arrange some alongside this sensational chocolate log.
This favorite Christmas recipe is always a hit at our large family gatherings, but the key is to keep the dessert crunchy. So, while you may be tempted to substitute with a plain Chocolate cookie in place of ginger nut, please be aware that ginger nut is preferred in this favorite recipe for Christmas as it keeps it hard crunchy texture for much longer than a generic chocolate cookie.
Take care when decanting your favorite liqueur over the log, to do so, over the cookies so that the booze does not make the cream and Nutella watery.
The scaffolding of toothpicks is to protect the cream while in the refrigerator. Avoid the cream touching the cling wrap - that'll mess up your topping and it will then have to be redone.
These favorite recipes may be simple, but for them to look sensational, present with some thought. As with all things and likewise recipes, presentation is key.
---
Leave Favorite Christmas Recipe to browse through for wonderful yet easy recipes and festive ideas!