Easy Chili Recipe

You'll just love this easy chili recipe of bacon and two bean chili. I cobbled this together from what was available in the pantry. It's so easy to make simple, tasty dishes like this.  
...you can't go past an easy recipe like this sensational chili!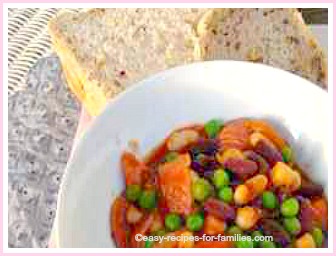 Rating:   Very Easy
Hands-On Time:  15 minutes
Hands-Off Time: 0 minutes
Ingredients:  8
Steps: 1
Bacon and 2 Bean Chili
You'll need:
1 pound/500 gm bacon rashers, trimmed of fat
1 can/ 400 gm diced tomatoes
1 can/400 gm cannelloni beans
1 can/400 gm red kidney beans
1 1/2  cups frozen peas
1/2 cup water
1 tb cumin seeds
2 ts piri-piri
1 stock cube
Here's how to throw it together:
In a roomy skillet - I use a large electric frypan, fry bacon rashers till cooked. You can, if you have time dice it into smaller pieces.
Toss in the cans of beans and tomatoes with the water
Add in all the spices and stock cube
Cook for a couple of minutes till well blended. The sauce will become thick. Add more water if it is too heavy.
Last of all, stir through the frozen peas.
Serve this chili recipe with corn bread or fluffy white rice.
---
Leave Easy Chili Recipe and be inspired by hundreds of scrumptious yet so easy recipes!