Healthy Vegetarian Recipe

Tomato and Onion Au Gratin
Photo Tutorial
This wonderful healthy vegetarian recipe makes a perfect appetizer and a wholesome meal for vegetarians. The key is the use of herbs and seasoning for the depth of flavor in vegetarian meals.
To go to the full recipe with the correct proportions, click on this photo.

Ingredients for This Healthy Easy
Vegetarian Recipe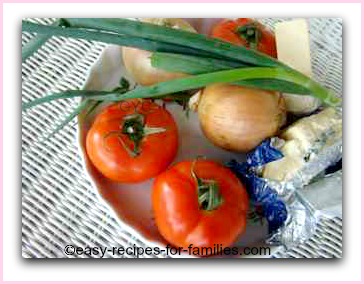 The main ingredients are:
Onions
Tomatoes
Feta Cheese
Frozen Peas
Shredded Tasty or Cheddar Cheese
Here's How To Put The Recipe Together

Before you do anything else, preheat the oven to 400F/200C.

All the seasoning listed in the recipe...well, pop them all into the ovenproof flan dish, just like in the photo. See here the red wine vinegar, olive oil, generous amounts of herbs, pepper,salt, garlic and paprika.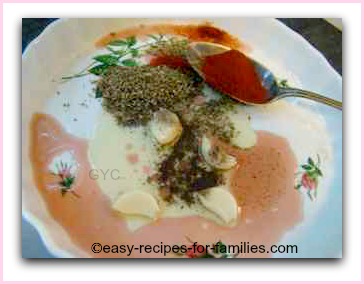 Give it a good stir around.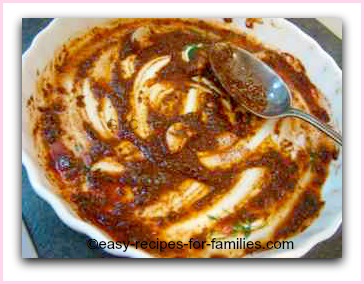 Place all the sliced onions and tomatoes into the tray and toss them around so that every piece is well coated with seasoning. Be sure there's enough oil to prevent the vegetables dehydrating and add more if required.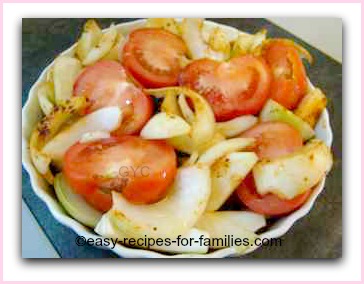 Bake for 30 minutes then remove and add feta cheese, frozen peas and top with shredded tasty cheese.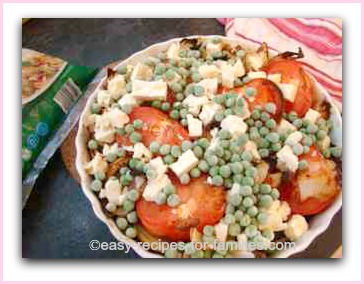 Bake for 15 minutes till the cheese is a lovely golden brown and allow to stand for 10 minutes before serving.
Doesn't this healthy recipe look wonderful?  It cuts into 4 main sized serves or 8 appetizer servings.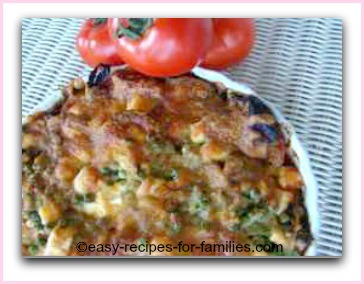 Tips From Easy Recipes

The key to roasting is to make sure that the ingredients do not dry out. In this instance, be sure to coat the tomatoes and onions thoroughly with the oiled seasoning and be sure to add more good quality olive or rice bran oil, if so required - just another half or one tablespoon - not too much.
Be generous when seasoning with herbs. It is the garlic and herbs that adds depth to vegetarian recipes.

---
Leave Healthy Vegetarian Recipe to discover hundreds of sensational easy healthy recipes to WOW your friends and family!