My Uncle has heaps of jam recipes. He makes the very best jams and we all love his easy marmalade recipe. It's just so fruity and wholesome, you can't help but smear double helpings onto fresh bread.
Uncle's Easy Marmalade takes just 25 minutes to cook and is absolutely yummy!
Uncle's Easy Marmalade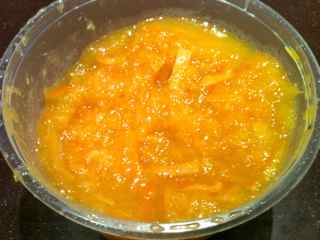 Easy Jam Recipes - Uncle's Marmalade

This recipe makes about 2 pounds of marmalade.
It is very delicious on freshly baked bread.
Just Add
Prepare
• 3 lbs/1.5 kg oranges

• 2 cups jam sugar

• 1 tbsp gelatine

• If you don't have jam sugar, use 2 tbsp gelatine

• 1 1/2 tbsp lemon juice

• pinch of salt




• To obtain the orange rind, peel the oranges by using a small fruit knife to cut off the peel with as little pith as possible. The pith is the white part just under the peel. Obtain 2 cups of rind

• Cut rind into narrow strips

• Remove the pith around the fruit, discard the pith. Cut oranges into small chunks. Be sure to remove any seeds

• Pop fruit, rind and jam sugar into a saucepan

• Boil on high heat till it is a roiling boil.

• Turn the heat down to moderate and simmer for a further 15 minutes till the marmalade thickens

• Add lemon juice and a pinch of salt. If need be, if you would prefer a thicker marmalade, add additional gelatin, dissolved in a little hot water

• If the rind has not softened and you are worried about the marmalade drying out, add orange juice to the pan

• Total cooking time is about 30 - 35 minutes


My family loves my Uncle's jam recipes. He's such an expert and so happy to make them as a treat for us.
Once you've tried Uncle's marmalade, you won't go back to store bought jams.
~~~~~~~~
Tip
If you'd like a thicker marmalde, add a little more gelatine.
If you like a sweeter marmalade, add a little more sugar. We prefer a marmalade that is not overly sweet.
You'll know when your marmalade is ready when it boils thickly like a mud pool about to "erupt".
Marmalade takes longer to cook than berry jams, so it may dry out while waiting for the rind to soften. It is preferable to add orange juice to the pan if the mixture looks dry, but hot water is fine too.
Bottles for storage of jam may be sterilized in the following manner. Pour boiling water into the cleaned bottle. Do the same for the bottle covers. For extra protection, heat the bottle with the hot water in it in the microwave for 3 mins or so.
If your marmalade does not thicken and requires more gelatin, jut return it to the pan, reboil and add more gelatin.
~~~~~~~~
Try Uncle's Easy Strawberry Jam



Wishing you happy cooking!
For more Quick Easy Recipes:
---
Top of Page Jam Recipes
Uncle's Easy Marmalade