Jamies 30 Minute Meals

Out Sells J K Rowling's Latest Book
Jamies 30 Minute Meals truly is a best seller! It's topped the Christmas best seller lists for a third year in a row.

It's an excellent cookbook especially with the zeitgeist populous who are looking for quick and easy recipes.  I think it's an excellent book and it seems so do a million others too!  Here are just some of the rave reviews, but first watch this 3 minute video on Jamie's Stuffed Cypriot Chicken. The recipe's from his Jamie's 30 Minute Meals.

Sensational!
The book features 50 x 3 course meals all of which he claims can be prepared in 30 minutes.They're so simplified all 3 courses are condensed onto one page!
Jamie warns that you have to be prepared and your kitchen must be organized and that is the key to meals in 30 minutes.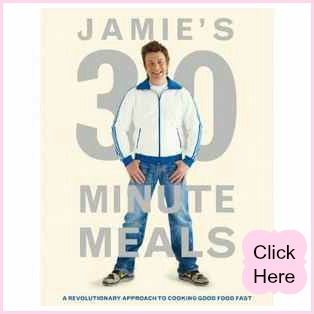 Rave About Jamies 30 Minute Meals

BBC 19 December 2012

"Jamie Oliver tops Christmas book chart
TV chef Jamie Oliver has topped the festive book chart, scoring his third consecutive Christmas number one.
117,911 copies of Jamie's 15-minute Meals were sold in the UK last week.
In the final chart before Christmas, Oliver sold more than double the number of copies of the next best-selling book, Guinness World Records 2013.
Oliver said he was "humbled", adding: "It was the hardest book I've had to write in 14 years and I absolutely put my heart and soul into it."
"To write a book about everyday food that was both healthy and quick and delicious was a real challenge but one that I enjoyed. Happy Christmas and happy cooking.""
Watch this interview with Jamie Oliver!
It's from BBC News UK, Five Minutes With Jamie Oliver
1 December 2012
Matthew Stadlen talks to British celebrity chef, Jamie Oliver about changing people's eating habits, keeping in touch with all his different business interests, how fame has not changed him, and why he would eat chips for breakfast.
Independent, Ireland 7 April 2013:

"Naked Chef Overtakes J K Rowling to have Highest Selling Book of the Year
JAMIE Oliver has finally triumphed in the battle of the publishing giants after his latest book finally overtook JK Rowling's The Casual Vacancy.
The chef locked horns with the Harry Potter writer when their bestsellers were published on the same day in October, known as "super Thursday" when the book trade goes all out for the Christmas market.
Oliver has consistently achieved colossal sales for his books with his 30-Minute Meals volume becoming the biggest seller of 2010, and his Jamie's Great Britain doing well last year. If he were to top the Christmas chart this month, it would be the third successive year in which he has done so."
From The Times Of Malta, October 2011:
"Naked chef Jamie Oliver is odds-on favourite to top the best-seller books charts this Christmas.
His new book, Jamie's Great Britain, is tied in with a new Channel 4 series and that publicity combined with Oliver's popularity guarantees healthy sales figures."
Jamies 30 Minute Meals truly is sensational!
Notification:
I may receive a small amount from the supplier should you purchase this item, however please be aware the cost will be the same irrespective of whether the item is purchased directly or via our store. 
Thank you for supporting us by purchasing via this site.
---
Leave Jamies 30 Minute Meals to explore for hundreds of scrumptious yet so easy recipes!

Back To:  More Cookbooks | Our Store