Pumpkin Bake
This delicious pumpkin bake is made from left over baked pumpkin. As with our many of our easy recipes, this is a one-pot dish where all the ingredients are mixed in the serving dish and baked. My family just loved this Creamy Bake and it was all gone in one sitting!


Creamy Bake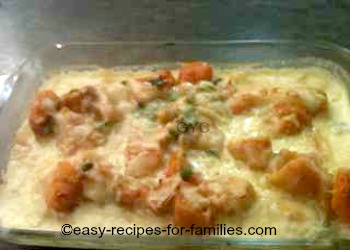 It's a yummy dish served as a sides with a hero meal.
This bake serves 4 persons as a sides.
You can have it on its own accompanied with french bread and fresh green salad.
Ingredients

Use left over pumpkin or
steam pumpkin pieces in a little water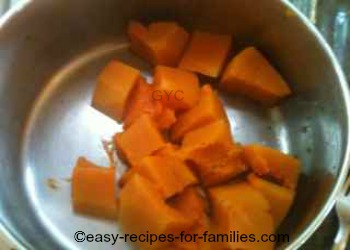 Into a gratin dish, spoon a little oil, add pumpkin, spring onions, diced onion and seasoning

Toss well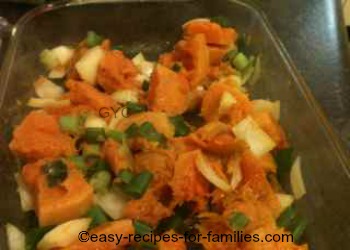 Mix the cream with flour and seasoning

Pour the creamy mixture over the veg. Top with cheese
It is ready for baking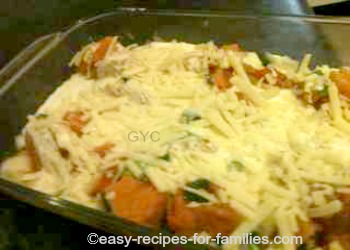 Creamy Bake
Just Add
Prepare
• leftover pumpkin of about 1/2 a butter nut squash, cut chunkily. This will make about 15 - 20 chunks of pumpkin

• 1 onion, diced

• 2 spring onions, diced

• cooking oil

• 1 cup cream

• 1 tb plain flour

• 1/2 cup shredded cheese

• salt and pepper to taste





• Preheat oven to 390F/200C

• Using a gratin dish - this is an open, oven proof rectangular glass dish, drizzle a little oil

• Toss in onion and pumpkin pieces as well as the spring onions and seasoning. Toss to combine

• In a separate bowl, combine cream, flour and seasoning. Pour over the pumpkin

• Top with shredded cheese

• Bake for 15 minutes till golden brown


This is ever so easy to prepare and it makes a lovely sides to any meal.
Creamy Pumpkin Bake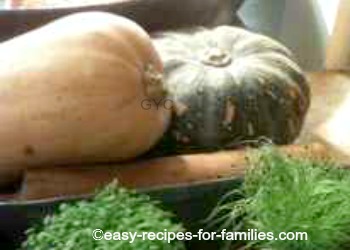 Now, how easy was that!
...and what a tasty way to use up a previous night's left overs.
Tips
If you don't have left overs, just steam half a fresh squash. Firstly skin and de-seed the fruit, wash and then cut into chunks.
Add just a little water to the saucepan and steam.
Add whatever herbs are handy. I used spring onions because they were left over garnish from an earlier meal.
If you don't have cream, use milk.
---
Leave Pumpkin Bake to explore the hundreds of delicious cheap quick and easy dinner recipes that will have the family running to the dinner table!