Pumpkin Pie Filling
We're ready to make the pumpkin pie filling once the pastry glazed with egg wash is baking in the oven. This page will show you how to make a yummy filling like this:

Prepare Pumpkin
While the pastry shell is in the oven, prepare the pumpkin. Trim, remove seeds and wash it. Then cut the pumpkin up into chunks.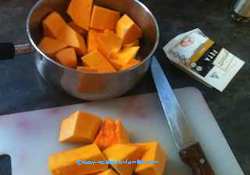 Place the pumpkin chunks into a saucepan, with 3/4 cup of salted water. Boil till cooked.
Different varieties of pumpkin take different times to cook, and this will vary from 8 minutes to 15 minutes.
I recommend boiling it till soft but still with some texture, so that some of it can be mashed and other parts firm enough to give "bite".
Prepare Feta Cheese
In the meantime, break up the block of Feta Cheese so that it is all crumbly.
Baked Shell
Here's the
baked shell ready to be filled
.
If pie weights or baking beans have not been used, the shell will rise. That's fine.
For puff pastry, make it flat, by making little snips in the base using a pair of kitchen scissors and push it back down flat.
Fill The Shell With The Pumpkin Pie Filling
Fill with half of the cooked pumpkin.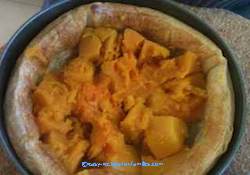 Then add the crumbed Feta Cheese.
Sprinkle over two teaspoons of cumin seeds, or if you prefer a subtler flavor, one teaspoon of cumin.
Add a generous amount of freshly ground pepper.
Then top with the remainder of the pumpkin.
Pile the cooked pumpkin so that there is a mound in the center.
Final Steps Prior To Baking
Finally, top with pastry.
Decorate it with excess pastry.
Cut 4 - 5 slits in the top to allow heat to escape.
Brush egg wash liberally over the top. This helps enhance the golden brown color on baking.
Bake for 20 minutes.
When the pie is cooked, the next step is to plate it beautifully out of the spring form pan. Let me show you how.
---
and discover

hundreds of other no-fuss great meal plans!