How To Plate
The Perfect Pumpkin Pie

You've just baked the perfect pumpkin pie and it looks sensational straight out of the oven in its spring form pan.

Here it is, just perfect!

Homemade pumpkin pie, freshly baked.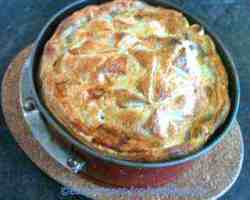 To get to this stage of creating the perfect pie, you've followed the steps for
a homemade pumpkin pie
, made the
pastry for the pumpkin pie recipe
, learned how to separate eggs to make
egg wash
so as to seal your pastry shell and you've made from
scratch your pumpkin pie filling
.
What an achievement for this magnificent perfect result in baked goods!
But how do you get it out whole, without breaking it?
Naturally, you need to do this with care, as presentation is everything. We all love an appetizing meal that looks sensational and tastes divine.
When the pie has cooled a little, release the lever and while holding the base, lift it away from the loosened walls of the spring form pan.
Remove the spring form pan.
Leave the pie on the base. Slide the base with the perfect pie onto a serving platter.
How gorgeous is this!
Enjoy this sensational perfect homemade pumpkin pie recipe!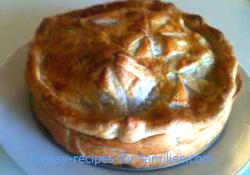 ---
Back to: The Perfect Pumpkin Pie





Or explore