How to cook Bacon And Egg Muffins
In 15 Minutes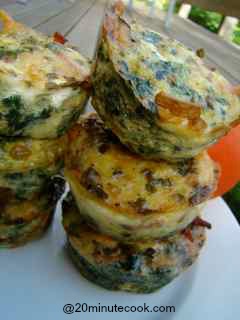 Whip up these yummy bacon and egg muffins in 15 minutes. This, one of our gluten free easy recipes, is ideal to serve as appetizers,  to have in the pantry as snacks or for fuss free picnic recipes.  Whatever...this is delicious, moreish and incredibly easy to make.
Rating: Easy
Hands-On Time : 3 mins
Hands-Off Time:  12 mins
Bacon Egg Muffins


To make 6 muffins you'll need:

4 pieces of bacon, roughly cut up
3 eggs
1 half shell of milk
3 oz/ 80 gm frozen spinach, thawed
1/4 c shredded tasty cheese
salt, pepper, dried chives

Preheat the oven to 460F/220C


Place the bacon pieces, spinach and cheese evenly in each muffin hole


Beat eggs, milk and seasoning and pour into the muffin tray


Bake for 12 minutes till golden brown


Either serve hot or leave to cool - they are delicious as snacks or in the lunch box.
Step by Step Photo Tutorial
Bacon and Egg Muffins

Tips From Easy Recipes

Here are some of our short cut time saving tips:
Have in your freezer, fried bacon bits. When I purchase a large packet of bacon, I break it up into smaller portion to freeze and I fry up some to freeze for later use.

Frying up bacon pieces takes less than 5 minutes - it is simply no bother.
Use kitchen scissors to speed up your work. Cut up bacon pieces roughly. There is no need to be genteel about it.
Measure out liquid to go into the egg mixture by using half an empty egg shell. This way you take care just the right amount of milk or water. For easy recipes with eggs, the general rule of thumb is one half egg shell of liquid to one egg. But for these muffins, be sure to add less or you'll end up with too soft muffins.
Always preheat the oven
I always use non-stick bake ware so as not to waste time greasing baking pans.
---