This recipe makes enough for 2 - 3 main meal sizes or 4 sides.

For this delicious warm spiced cabbage salad, you'll need:
6 baby potatoes halved
2 tbs good quality cooking oil
1 heaped tbs Gujerati spices

1/4 head of cabbage

1 mild chili or alternatively 1/2 red capsicum, diced finely

1 can chick peas, drained

salt pepper
Juice from 1 lemon

1 heaped tb dessicated coconut
1/2 cup roughly chopped coriander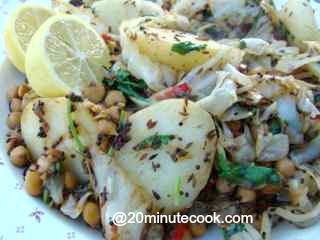 Cook the baby potatoes in lightly salted boiling water. This will take about 15 minutes and they'll be ready by the time the cabbage salad is put together.


In a large non-stick skillet or sauce pot, heat the cooking oil


When hot, toss in the spices and fry for a couple of minutes, till fragrant


Toss in the cabbage and chilli and fry till soft


Season with salt and pepper as suits your taste


Toss in the can of drained lentils and stir through to warm 


If the mixture looks a little dry, just add a couple of table spoons of water. Not too much, though


If using red bell peppers as a substitute for chilli, toss them in now


Turn off the heat


The potatoes should be ready by now. You want them still firm but cooked all the way through. Drain them and add them to the cabbage salad


Stir through


Add juice squeezed from one lemon and toss through the coconut and coriander


Serve immediately on a large platter


This makes sufficient for 4 to 6 persons as a sides or if serving as a vegetarian mains, this recipe makes 2 to 3 serves


For more "body",  you may add another can of drained chick peas or white canneli beans. There's no need to cook the beans, just stir them in to warm it through.