Cindi Leive
Wrote Glamour Magazine's
Easy Cookbook

Cindi Leive of Glamour Magazine shares this sensational recipe one of the girls made for her boyfriend. It was so yummy he asked for seconds and would you know by the end of dinner, he'd popped the question! 
Read on to discover why this particular dish came to be known as Engagement Chicken.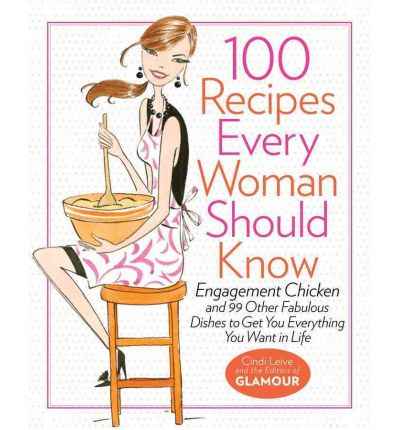 Cindi Leive's
100 Recipes Every Woman Should Know
Ina Garten of Barefoot Contessa Cookbooks reviewed Leive's book and tells the story:

"Once upon a time, there was an easy roast chicken recipe, handed down by a fashion editor at Glamour magazine to her assistant, who was in search of a dish to prepare for dinner with her boyfriend. She made the meal. Her boyfriend loved it. He had seconds.
And shortly thereafter, he proposed.
But that's not all: Three more young women at the magazine made this for the men in their lives who then, in short order, popped the question.
Glamour published the recipe - dubbing it, naturally, Engagement Chicken - and since then, the magazine's editors have heard from more than 60 women who have gotten engaged after making the dish."
Cindi has included 100 of the magazine's best reviewed recipes and like the girls and Glamour Magazine, Leive claims these will get you precisely what you want to get, exactly when you want it.  I love the names. Leive and the girls must've had great fun thinking up these:
Impress His Family Chardonnay Cake
Prove To Mom You're Not Going To Starve Meatloaf
Skinny Jeans Scallops
He Stayed Over Omelet
Lets Make A Baby Pasta
No Guy Required Grilled Steak
Forget the Mistake You Made At Work Margarita
His and Hers Cupcakes
Bribe A Kid Brownies

Like us, Cindi  considers cooking should not be intimidating and it should always be fun. Leive has selected recipes which are easy and will help you cook with passion.
Leive bring such fun and energy to cooking and Cindi adds to that a whole lot of elegance.

Have fun!
Here's What I Cooked From Cindi Leive's Glamour Cookbook

Engagement Chicken - Roast chicken with lemon and herbs. It turns out a nice crispy skinned roast yet deliciously moist and tender. I'd do this again, but for my taste reduce the number of lemons.  While delicious, for our taste it had a little too much "bite".

Notification:
I may receive a small amount from the supplier should you purchase this item, however please be aware the cost will be the same irrespective of whether the item is purchased directly or via our store. 
Thank you for supporting us by purchasing via this site.
---

Home | Easy Chicken  | Store | Best Easy Cookbooks | 100 Recipes Every Woman Should Know