Easy Chicken Salad Recipe


We'll learn to make this sensationally delicious easy chicken salad recipe over the next 4 pages.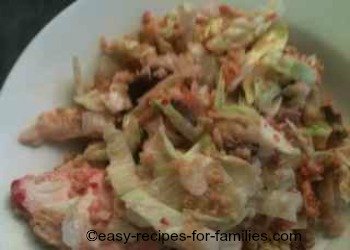 Rating:
Easy
Hands-On Time:
10 minutes,
Hands-Off Time:
0
Ingredients:
6
Steps:
3
If cooking the quinoa, this will take 30 minutes.
Ingredients for A Roast Chicken Salad With Quinoa and Beetroot
This delicious recipe is from our collection of easy recipes. Just follow the steps in the photo below, but if you are new to cooking and would like a step by step tutorial, do click on the "Learn How" Buttons.
Equipment: A large salad bowl
Roast chicken breast
Quinoa
Beetroot
Lettuce
Mayonnaise
3 Steps To A Scrumptious Chicken & Quinoa Salad
Step 1:
Cook the quinoa grains.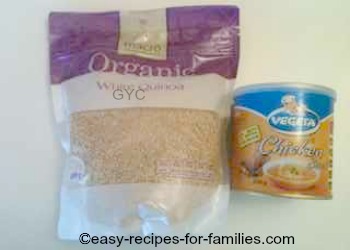 Step 2:
Shred the lettuce.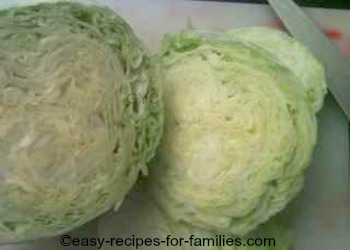 Step 3:
Make the delicious salad.
Slice the chicken and beetroot.
Add all the ingredients and toss.
And that's it!
Serve immediately.
This salad goes perfectly with...
Following this chicken salad, we enjoyed for dessert, this
pumpkin pound cake
drizzled over with thick cream. The meal made with these easy recipes, looked absolutely terrific!
This recipe makes 4 meal sized servings.

Equipment:

A large salad bowl
Roast chicken breast
cooked quinoa
beetroot
shredded lettuce
Mayonnaise




Just Add
Part 1: Cook the quinoa
• 1 cup quinoa grains

• 2 1/2 cups water

• 2 heaped ts stock powder




• Cook the quinoa with water and stock. Bring to the boil

• Immediately turn the heat down to a low simmer till all the water is absorbed as in the tutorial

• Keep the lid covered for a further 5 - 10 minutes after the heat's been turned off, then fluff with a fork


Just Add
Part 2: Shred the lettuce
• 1/3 head of a medium sized lettuce




• Slice the head into thin strips

• Then slice into thin slices



Just Add
Part 3: Make Up the Salad
• 1 side store bought roast chicken breast

• 1/2 small can of beetroot

• the shredded lettuce

• the cooked quinoa

• 2 tbs mayonnaise




• Slice the roast chicken breast thinly

• Slice the beetroot and cut into small cubes

• Place all the ingredients into a large roomy salad bowl

• Toss well coating it well with the mayonnaise



Tips
I use the seasoned mayo from Costco - it's delicious!
There's no need to use a fancy lettuce, just a fresh crisp iceberg lettuce is perfect.
Take care with the beetroot! It stains easily so be sure it doesn't get on your clothes.
---
Leave This Easy Chicken Salad Recipe to be inspired by hundreds of tasty yet ever so easy recipes!