Chicken Salad Recipe
Delicious Yet So Easy
This page has the last instructions for this recipe - a scrumptious Chicken Salad Recipe with Quinoa and Beetroot.

Once you finish this recipe, you'll see why this has made it to our collection of easy recipes - it takes virtually no effort and is incredibly tastt.
To obtain the full recipe, please click on the button: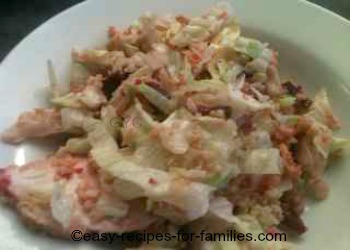 Here's what we learned in the previous steps of this tutorial:
To learn how to cook quinoa just perfectly for this salad, click on the button:
To go learn how to shred lettuce, click here:
Put the salad together
Here you'll require:
A roomy large salad bowl
The cooked quinoa
The shredded lettuce
The store-bought roasted chicken breast
1/3 can of beetroot
Mayonnaise
Slice the chicken breast thinly and place in the salad bowl.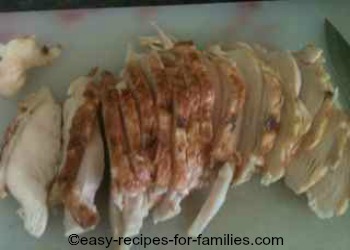 Cut the canned beetroot slices into small chunks, taking care not to spill any of the purple juice on your clothes.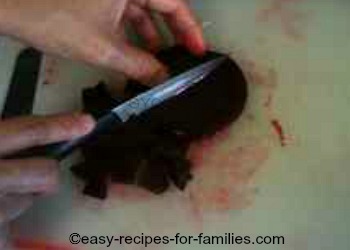 Now, place all the ingredients into the large salad bowl.
Add a good dollop, that's 2 heaped tablespoons of tasty mayonnaise.
Toss to combine.
Serve immediately. It's fresh, crunchy and tasty. You can't beat this sensational salad recipe.
This goes perfectly with...
Make this delicious chicken salad with healthy quinoa and tasty beetroot as a pot luck dish. Bring along these very easy
little ham and egg "pielets"
They are just too embarrassingly easy to make!
---
Leave Chicken Salad Recipe to discover loads of delicious yet easy recipes!