Easy Salsa Recipe Salsa Verde Photo Tutorial
Here's the photo tutorial for this easy Salsa recipe
Salsa Verde
for a modern fresh sauce to go with meat dishes. It's a fresh healthy sauce that's a generational move away from  stodgy gravy.
This Salsa Verde can also be enjoyed as an appetizer with crackers or enjoyed for lunch spread on toast.

To go to the recipe for Salsa Verde with the full instructions and proportions click on the photo:
Ingredients For An Easy Salsa Recipe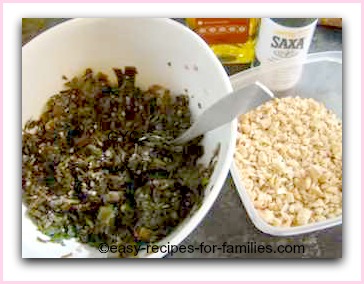 In the photo for Salsa Verde, are the chopped freshly toasted almonds to be tossed into the cooked herbs of basil, parsley and spring onions, flavored with olive oil, pepper, a chili, a stock cube and white wine.
Here's a tip to store your herbs for just a little longer. You'll see how I wrap parsley in newspaper to store in the refrigerator.  Don't use plastic bags but use paper instead as it seems to absorb moisture and the leafy vegetables do keep longer.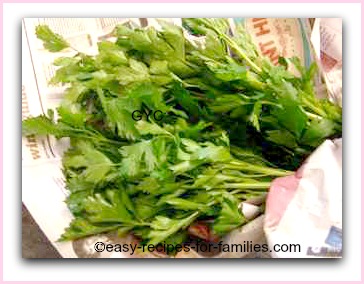 How To Prepare Salsa Verde

Chop up the herbs finely with a sharp heavy knife.  You'll find a large heavy knife will work better than a vegetable knife in these circumstances.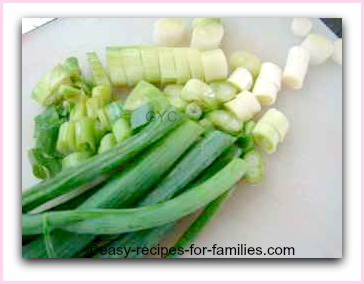 In a roomy saucepan, heat the oil then toss in the greens with pepper and the stock cube. When wilted, pour in the wine. You'll hear it sizzle and it is surprising how it evaporates and is absorbed by the leaves so quickly.
Remove to cool in a serving bowl.
To prepare the nuts, dry fry the blanched almonds in a non stick pot or fry pan. Once browned, remove to a chopping board.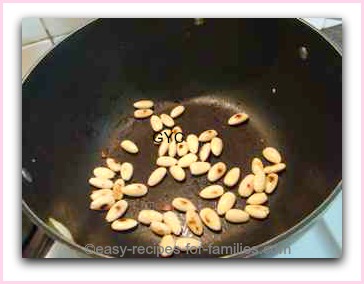 Using a heavy knife chop the almonds.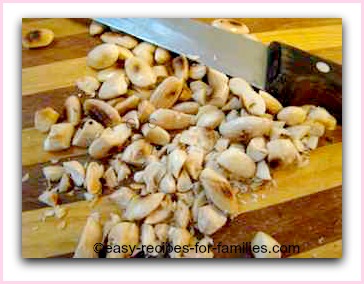 Till they are finely chopped.  Don't crush them as it then becomes an oily mess. Chopping gives more crunch and definition.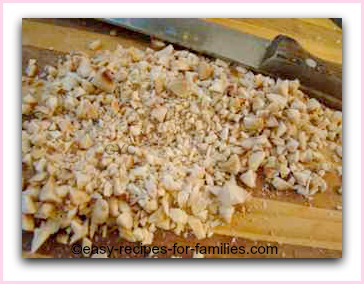 Toss the nuts into the salsa verde and that's it!
This recipe truly adds a WOW! factor to your meals.

---
Leave Easy Salsa Recipe Salsa Verde to explore hundreds of easy healthy recipes that are delicious, healthy and yet so simple to prepare!