Easy Vegetarian Lasagna
Photo Tutorial
In this photo tutorial for an easy vegetarian lasagna, we're making a healthy pumpkin and spinach lasagna.
For the full recipe with the proportions required, click on the image of this mouth watering healthy recipe.

For  A Vegetarian Lasagna, Firstly
Roast the Pumpkin With Herbs
and Garlic

The success of a vegetarian lasagne is dependent on the deep full flavors of the filling and this recipe is particularly wonderful due to the infusion of lots of diced garlic and rosemary roasted with the pumpkin

Click on the image to learn how to roast pumpkin.


Now, Thaw and Flavor the Frozen Spinach

The easy way to make spinach recipes is to purchase frozen spinach leaves.
Put them into a pot with a good glug of quality olive oil and season with salt and pepper or stock cubes as suits your recipe.
For a standard sized lasagna recipe, you'll require 1 pound/ 500 grams of frozen spinach, 1 tbs olive oil and seasoning.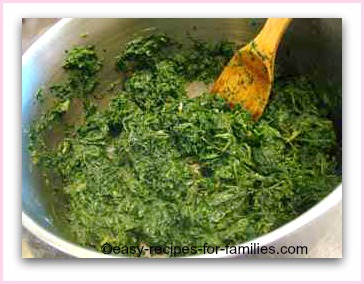 Keep stirring on high heat with a good glug of oil to stop the vegetables from burning and sticking to the base of the pan.
Once the vegetables are moving "fluidly" turn off the heat and it's ready to be used in the recipe.
See in this photo for this scrumptious vegetarian lasagna, the layers of roast pumpkin and spinach sandwiched between sheets of uncooked lasagna and white sauce.
To continue with the tutorial for this easy lasange, click on the image to learn the last step of how to put it together.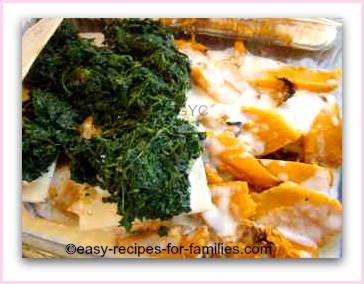 ---
Leave Easy Vegetarian Lasagna to discover hundreds of delicious healthy easy recipes!