Fresh Pumpkin Pie
Hurrah!

Here's the final stage in making this fresh pumpkin pie.

At the conclusion of this stage of this pumpkin pie recipe, you'll have plated this very attractive filo pastry pie.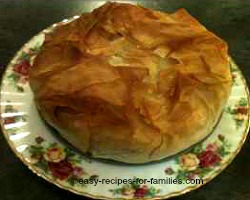 The
pumpkin pie
is wrapped in 15 layers of prepared filo pastry on its way to being a
perfect pumpkin pie
. It is filled with a delicious filling of
fresh pumpkin
and
marinaded chicken
.
Glaze, Bake, Plate
What you require:
The left over oil and pastry brush
The prepared pie wrapped in filo
Step 1: Glaze
Using a pastry brush, brush oil onto the filo sheets, taking care to get into every nook and cranny.
The oil is important in this process as it adds moisture to the pastry and helps with browning.
You may use a can of spray of oil. Be sure to apply liberally.
Step 2: Bake
Place the glazed pie into a preheated oven at 360F/180C.
Preheating the oven is important so that the temperature is evenly distributed in the oven cavity.
Place the spring form pan in the lower center of the hot oven.
Bake for 45 minutes till it is a lovely golden brown.
Look at this - fresh out of the oven and just beautiful!
Leave the fresh pumpkin pie to rest for 10 minutes while it cools.
Step 3: Remove the spring form pan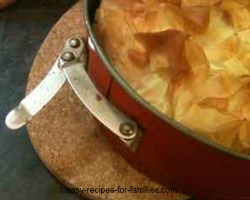 Release the spring on the spring form pan. This loosens the walls of the pan, while the pie continues to sit on the base.
While holding the base, lift the loosened pan off from the top and remove it.
Place the pie on the spring form base on a lovely plate.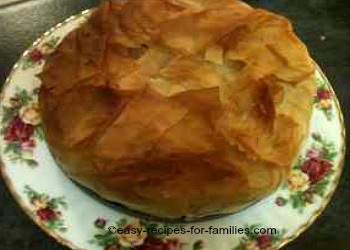 There you are...how simple was that!
Your lovely elegant diabetic pumpkin pie cooked with fresh ingredients, looks sensational and is ready to be served.
Serve immediately while hot.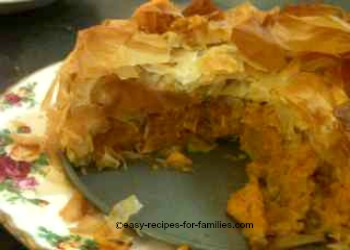 ---
Explore this site for


hundreds of wonderfully simple to make tasty one pot meals prepared in a flash.