Pumpkinpie
Here is the next stage on how to make this diabetic
pumpkinpie
. We've taken care to cook
fresh pumpkin
so as to control the intake of additional sugars. As well, the
marinaded chicken
is cooked to perfection.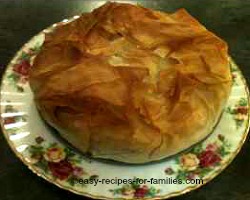 The pie fillings are cooked and ready for this procedure.
Fill and Wrap Up
What you require for this step:
the prepared oiled pastry sheets draped over the spring form pan
the delicious marinaded meat filling
the seasoned pureed pumpkin pie filling
a cup of good quality vegetable oil or a can of oil spray
a pastry brush
Step 1: Layer
Spoon into the pastry shell of draped oiled filo sheets, half the seasoned fresh pumpkin pie mixture.
Spoon in all the cooked chicken pieces.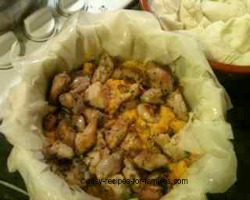 And lastly, spoon over the remainder of the mixture.
Step 2: Wrap up
Gently fold over the overhanging layers of filo pastry over the top of the filling to cover it entirely.
There's no need to be firm about the fold over. Try to lay them gently so that the effect looks light and flaky.
For the last few sheets, just leave the pointed up to look like a crown.
Well done!
The hardest part is over and it's now ready for the next stage - getting the pie baked.
---
Explore for


meals in a flash! There are loads of delicious simple no fuss meal ideas.