how to cook scrambled eggs
in the microwave oven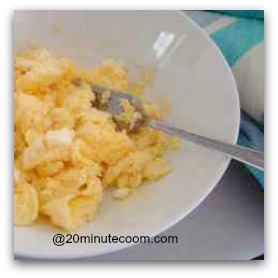 Learn how to cook scrambled eggs so that it's on the table in 3 minutes!  We do this in the microwave oven and best of all, you only ever use the one bowl so there's minimal washing up.  This is one of the Go-To easy recipes if you need a good healthy snack fast.

Rating: Very Easy
Hands-On Time: Under 30 seconds
Hands-Off Time:  3 Minutes
Scrambled Eggs In 3 Minutes!


For one snack sized serve, you'll need:

2 eggs
1/2 egg shell of water per egg
Salt, pepper,
Optional - chives, 1 tbs shredded tasty cheese

Equipment: a bowl and a plate, a microwave oven

Break two eggs in a bowl and add 1/2 egg shell of water per egg.


Add seasoning and tasty cheese or herbs if you have any. Beat till combined


Cover the bowl with an upturned plate, to prevent splatter from exploding eggs  as they cook


Cook on high power for one minute and 30 seconds


Remove the covering plate, use a fork to stir the partly cooked mixture


Replace the cover and cook again on high for another one minute and 30 seconds


Remove the "lid", break up the cooked eggs with a fork so that the eggs are scrambled


Serve immediately. Garnish with parsley or chives.
Step By Step Photo Tutorial
How To Cook Scrambled Eggs In 3 Minutes

Tips From Easy Recipes

Substitute milk if preferred, instead of water. The extra fluid helps keep the texture smooth and the scrambled eggs light. Otherwise the result it too dense and hard.  Scrambled eggs are cooked in a small frypan or skillet the same way - with the addition of some fluid


Always cover food being microwaved as the molecules become agitated and food will splatter and eggs especially will explode. The lid helps reduce the mess while cooking.


I only ever use inert porcelain or ceramic material for microwave cooking and NEVER plastic ware. You can see I use an upturned plate.


Have on hand some dried chives or a bag of frozen shredded cheese. You'll use these ingredients to cook as they're versatile and add depth of flavor.
---