A Cold Broccoli Salad Recipe
A Meal In 20 Minutes

Our cold broccoli salad recipe is a winner! It's one of our easy recipes, in fact, from our collection of easy healthy recipes.  I added lovely potatoes as carbs to make this a wholesome meal.

Rating: Very Easy
Hands On Time: 20 Minutes
Time To Table: 20 Minutes
Cold Broccoli Salad With Potato
To make a meal for 4 persons:

2 heads of broccoli, trimmed


2 carrots, sliced


4 large potatoes, quartered


1/2 onion, sliced finely


6 eggs

For the salad dressing:

2 tbs olive oil


2 tbs premium thick black soy sauce


2 tbs honey

Boil the potatoes in salted water. This will take 15 minutes


Boil the eggs to make them hard boiled


Slice carrots - toss them into a little salted water to cook


Trim broccoli - toss them in with the carrots only after the water is at full boil. Cover the pot but only for 5 minutes.


As soon as the broccoli turns dark green, test with a knife. It must be softened but still crunchy inside. Do not overcook.


Refresh broccoli and carrots under lots of cold running water to stop them cooking


Place the broccoli onto the serving platter


Arrange around the cooked potato, hard boiled eggs and scatter over the sliced onion.


Make the salad dressing by pouring in all the 3 ingredients and give it a good shake.


Pour over the cold broccoli salad and enjoy!
Tips To Make Easy Recipes Sensational Meals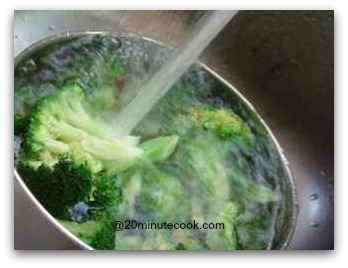 The key to this cold broccoli salad recipe is to keep the broccoli crunchy. So only just blanch the broccoli and immediately refresh with cold running water. Keep the tap running till the vegetable is no longer hot. We do this to stop it cooking internally
For this recipe, be sure the potatoes cooked just right. Test with a sharp knife and when it goes through but it still slightly firm, remove from the heat.  For this recipe, I don't refresh under cold water
It's nice to slice the carrots lengthways to match the length of the broccoli pieces
For the dressing, I make twice the quantity in this recipe to use in other salad dressings or for cooking as a sauce.
The key to keeping this under 20 minutes is to cook the potatoes firstly - they take the longest at 15 minutes.
Use short cuts - purchase scrubbed potatoes so you can cook them with their skins on. Likewise carrots - I don't always peel them. Just a good scrub will do
This was so quick to prepare, the pans were washed and put away by the time the dinner table was set.

---
 The 20 Minute Cook | Easy Healthy Recipes | Easy Vegetables | Cold Broccoli Salad Recipe