How To Make Pumpkin Pie
Learn how to make pumpkin pie using delicate filo pastry.

Here is the next step on how make this best pumpkin pie, with alternating filo tubes containing pumpkin filling and spinach and cheese .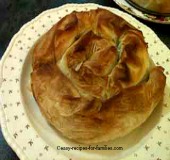 How to Make Pumpkin Pie with Delicate Filo Pastry.
Step 1:
To make this divine pumpkin pie, firstly prepare the fragile pastry
Filo pastry comes in a roll of extremely delicate sheets.
Be sure to work on a roomy clean flat surface where you'll have sufficient room to lay two sets of sheets flat as well as bowls of filling, oil and seasoning.
The objective of this step in the recipe is to:
separate the sheets of filo
oil them
make the rolls of filling
make the swirls
While each step of making this pumpkin pie is not difficult, careful handling this very fine pastry will take time.
This is what the sheets look like when unrolled. It is a stack of dry fine sheets of what looks like delicate linen.
Notice the little bowl of oil in the picture? Apply the oil lightly to the sheets using a pastry brush.
Else, spray with cooking oil.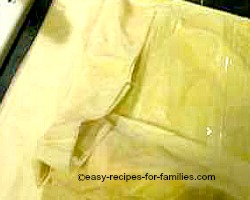 Brush
each
side of the pastry sheets lightly with oil making sure the edges are well oiled.
Turn the sheet over and repeat the oiling process.
Stack the oiled sheets neatly to one side.
Step 2:
Place the pumpkin pie filling on the filo sheet
Spoon a third to a half the filling along one long length of a side of a sheet of filo pastry. You don't want too much filling as otherwise the pastry will tear with too much stress.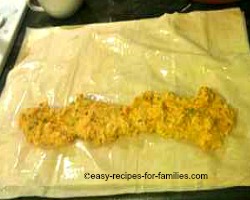 Make the filling shape long and thin allowing a generous margin on the near long side and on both short ends, to allow the sheet to tuck in.
Step 3:
Make a tube of pie filling
Roll three sheets of filo over the pie filling.
Fold in the short ends to encase the tube of pie filling.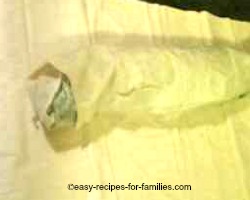 You'll find there will be sheets with tears, so use other part sheets to make repairs.
Of the 15 sheets in the packet, you will require 3 per tube of filling for 4 tubes, so that's 12 sheets. The other 3 spare sheets will be used for repairs which invariably will occur when you're handling such a delicate fabric of pastry.
Step 4:
Make the pumpkin pie swirl
As you can see in the image, place the tube of filo in a curl right in the middle of a silicone non-stick cake 'tin'.
Curl it tightly as you'll have 3 more tubes to fit in.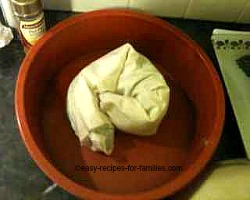 Repeat the process for spinach filling and so forth, so that there are alternating tubes with seasoned pumpkin and spinach pie filling.
A cake tin will fit 3 - 4 filled tubes depending on the width of each tube of pie filling.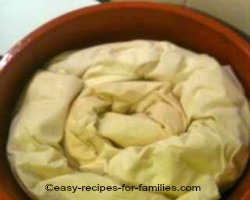 That's it!
You've now learned how to make pumpkin pie - the beautiful swirl of filo pastry is now ready for the final stages to completion.
Tips
A swirl pie made of tubes lends itself to fine grained fillings such as pumpkin and spinach.
Experiment with this recipe with substitute pie fillings such as stewed apple and raisins or stewed pears.
Instead of a swirl, you could attempt a plait of tubes with stewed fruit.
When preparing the pumpkin, take care to drain all of the excess fluid. The pureed mixture should be soft and moist but not wet.
---
Explore this site for


hundreds of delicious easy recipes, including super easy, tasty one pot meals prepared in a flash.